Three-quarters of UK airports have increased pick-up charges and more than a third have put up their drop-off fees for drivers in 2019.
With the holiday season in full flow the RAC can reveal that eight in 10 (82%) of the UK's 22 busiest airports* have increased their short-term charges for picking up and dropping off passengers by car since last year**.
Only Gatwick, Liverpool John Lennon, Bristol and Cardiff airports have kept their prices for both drop-off and pick-up the same.
London Southend has introduced a £3 for 10 minutes pick-up charge while Leeds Bradford is now advertising a £37 fee for 1-24 hours parking after its initial free hour of pick-up parking.
Looking at initial drop-off fees – often referred to as 'kiss and fly charges', which are typically levied for dropping passengers off either outside of or as close to the front of the terminal as possible, eight airports (36%) raised these while eight (36%) put up the cost of their initial periods of pick-up parking, and as many as 16 (73%) increased the charges for subsequent periods of pick-up parking. Overall 18 (82%) have put up, or introduced, fees in some way.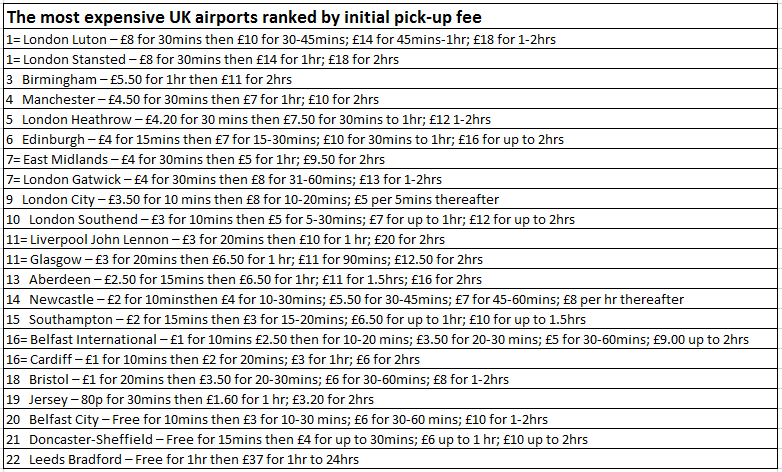 For the full list of details for each airport, please find the full story here.
Drop-off charges
London Stansted continues to top the drop-off charges' table with a whopping £4 for 10 minutes, but London Luton is snapping at its heels having hiked its initial fee by £1 but giving an extra three minutes in the process (£4 for 13 minutes).
Six other airports charge initial fees of £3 but the time drivers dropping off get varies from a meagre five minutes at Manchester to a more generous 30 minutes at Leeds Bradford.
This gives Manchester the most expensive 'per minute' drop-off charge in the UK with its fee equating to 60p a minute.
East Midlands has added £1 to its charges taking the airport to £3 for 10 minutes. Birmingham and Doncaster-Sheffield have also both moved up to £3, but here drivers get 15 minutes with Birmingham adding an extra five minutes compared to 2018.
Birmingham also offers a free 30-minute drop-off nearby. Liverpool John Lennon also has an initial fee of £3 but here you get a more generous 20 minutes.
Edinburgh and Newcastle have both doubled their drop-off charges to £2 but Newcastle gives 10 minutes in contrast to Edinburgh's five.
While Aberdeen has not increased its £2 fee, it has cut the stay from 15 minutes to 10. Six airports currently provide free drop-off facilities, most notably Heathrow and Gatwick.
Pick-up charges
The RAC's research also looked at pick-up parking. Many airports recommend car parks for picking up passengers which are closer to the terminal and are often marketed as short-stay, or an equivalent, so customers can leave their vehicles and greet passengers at the arrivals' gate.
Among the eight airports that have increased their initial pick-up parking charges for 2019, London Stansted has hiked its prices the most with a £2.50p rise to £8 for 30 minutes, making it the joint most expensive airport with London Luton for this type of parking.
Lucky for drivers at Luton, prices did not go up for 2019 and they have introduced a more competitive rate for electric vehicles (£2 for up to 30 minutes). On a per-minute basis, this is matched by Edinburgh which charges an initial fee of £4 for 15 minutes – again not increased from last year.
Birmingham is the third most pricy for pick-up parking at £5.50 for an hour, having increased this rate by 40p. Manchester takes fourth spot on £4.50 for 30 minutes after a 50p increase.
By adding 20p to its initial cost London Heathrow has the fifth highest fee of £4.20 for 30 minutes. East Midlands added 50p taking its initial pick-up parking cost to £4 for 30 minutes – the same as London Gatwick.
London City has put its prices up by 30p to £3.50 for 10 minutes whereas Newcastle has doubled its to £2 for 10 minutes and Jersey has put on 10p giving it the lowest fee in the UK at 80p for 30 minutes, aside from Belfast City, Leeds Bradford, Doncaster-Sheffield which are all free for different amounts of time (Leeds Bradford for up to one hour; Doncaster for 15 minutes; Belfast for 10 minutes)
Pick-up 'thereafter' charges
Of the 16 airports that have hiked costs for stays beyond the initial periods of pick-up parking, Stansted's is the most striking with £4 being added to its fee for up to an hour (now £14) and £1.50 going on to its two-hour fee (now £18).
This, together with the high initial pick-up fee of £8 for 30 minutes and a drop-off charge of £4 for 10 minutes, gives it the dubious honour of being the UK's most expensive airport for collecting and setting down passengers.
Luton's rise is also noteworthy with a £1 increase to three different time periods. It now costs £10 for 30-45 minutes; £14 for 45 minutes to an hour; and £18 for one to two hours.
London City upped its thereafter fees by putting on 50p and cut the staying time with £8 giving visitors 10-20 minutes, down from 30 minutes. After that it's £5 per five minutes; a change from 2018 when it was £27.50 for up to an hour.
Heathrow added 30p for its 30-minute to one-hour time period, taking its fee to £7.50; it also added 50p to the one to 2-hour band, making it £12.