Hauliers were fined over £630,000 for not having the right paperwork to enter Kent at the end of the Brexit transition period, DfT has revealed.
The fines, amounting to a total of £638,000, were for failing to have a Kent Access Permit, which was mandatory for EU-bound HGVs entering Kent from 1 January until 19 April.
The permits were created in a bid to prevent disruption at the Channel ports as the UK made its transition out of the EU in January this year. They were scrapped in April.
DfT revealed that 2,174 offences, each carrying a £300 penalty, had been recorded, of which 2,129 had been marked as paid, with more than £638,000 of fines collected.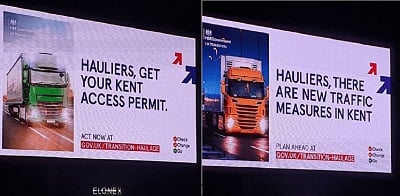 The department said the permits had been "instrumental in avoiding delays" but Rob Hollyman, director of Youngs Transportation and Logistics, slammed the permits this week.
Speaking on BBC Radio Kent, Hollyman said it was "absolutely scandalous it was introduced in the first place" and "simply a way of generating money for Kent".
He argued that the purpose given by DfT at the time was to reduce congestion in Kent but, he said, "it didn't reduce the number of trucks, it was outrageous and unnecessary and just ripping off lorry drivers".
Duncan Buchanan, director of policy for the Road Haulage Association, said the permits only added to tensions in the county between lorry drivers and residents.
He said: "It was introduced because if things had gone really badly, you might have wanted to control the numbers going into Kent, but it was never used in that way.
"It was unnecessary, it caused frustration and just ended up playing to this gallery of hostility in Kent towards lorry driving and lorry drivers."
---
Source: Motor Transport