Leading manufacturer of cargo control solutions, LoadLok, a member of the Cargo Control Company) has presented LayerLok, the new benchmark in double decking for any truck or trailer configuration.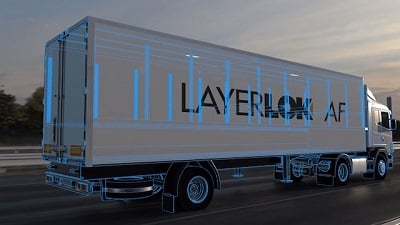 As part of their innovative product line-up in Load Securing, Load Optimization and Load Protection, LayerLok XP, LayerLok AF and LayerLok SC are designed to maximize the space utilization and payload of trailers, combining lower system weights and higher system performance. This results not only in easier handling, but also in higher loading efficiency, and lower cost-of-ownership for the vehicle owner.
Maximize Payload
A Double Decking solution is ideal in situations where cargo can't be stacked directly on top of each other, e.g pallet with boxes. Creating a second deck enables the end customer to use the complete capacity and maximize payload of the vehicle. LayerLok solutions can be used even with mixed loading heights to use the full potential.
System weight reductions and performance improvements
The 3 LayerLok Double Decking solutions were completely re-engineered, focusing on innovative ways to reduce weight and track profiles, without any compromise on performance. The engineering team have managed to reduce track weights up to
-40% and beam weights up to -30%! The LayerLok XP Fully Recessed Track for example has an ultra-low-profile depth of 9,25 mm; significantly lower than other fully recessed tracks available in the market.
Sean Spelman (Board Member, head of Product & Technology) explains: "We challenged our engineers to make significant performance improvements on our Double Decking solutions. We understand that every milimeter and kilogram is valuable in a vehicle configuration, by incorporating higher strength-to-weight materials combined with innovative design and manufacturing changes, we have managed to increase the efficiency for the end user." He continues: "LayerLok XP is our flag ship product. Reducing the profile depth of the track improves reefer insulation performance and opens new opportunities for builders to consider recessed tracks even in thinner walled vehicles. And with LayerLok SC, the full system weight has been reduced by 78 kg based on a typical SWAP body configuration. At our Centre of Excellence in Hirwaun, we are able to create tailored solutions to customer requests. Creating the ultimate solution in Double Decking for both Bodybuilders and Transport Companies."