Truck manufacturers are constantly looking to create more space in their cabs, deliver fuel efficiency gains and introduce enhanced driver assistance technology to make life smoother for drivers and operators.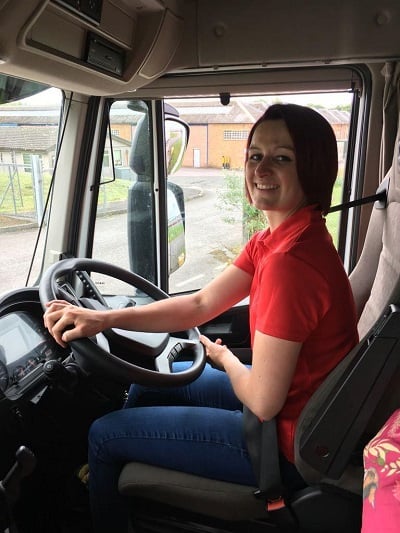 Recent developments have included manufacturers doing away with conventional mirrors and replacing them with cameras to enhance rear visibility and eliminate forward-facing blind spots.
There have also been changes inside cabs including the use of cloud-based voice services such as Alexa.
VISION SYSTEMS
MAN recently announced new features for its TGX, TGS, TGM and TGL cabs, that will arrive between the second half of 2021 and early 2022.
Its new MAN OptiView optional mirror replacement system, uses cameras to show what is happening around the truck on two large high-resolution displays on the A-pillars and also on the screen of the media system.
The driver has a selection of view options to choose from, each eliminating blind spots and improving visibility.
Thanks to a large, curved windscreen and larger side windows there is improved visibility and operators can also specify the optional Digital Vision System which replaces main-and wide-angle exterior mirrors.
Production will start in October, and the manufacturer has already received more than 1000 orders.
Mercedes-Benz also unveiled its heavy-duty diesel Actros L in June which includes a larger cab as well as its own mirrorless system, MirrorCam.
Meanwhile, the new range of New Generation DAF cabs launched in June – the XF, XG and XG+ – feature a large, curved windscreen and larger side windows for improved visibility, and operators can also specify the optional Digital Vision System which replaces main-and wide-angle exterior mirrors.
VOICE CONTROL
Truck makers are also introducing the Alexa intelligent personal assistant service built-in, enabling drivers to get directions, make phone calls, listen to the news and access entertainment, via simple voice commands.
Drivers of the new Volvo FH, FH16, FM and FMX can ask Alexa which route to take if the new truck is equipped with navigation software available from the manufacturer.
In addition, Alexa can help the driver make phone calls, play music and access news and audiobooks.
Christian Coolsaet, Managing Director, Volvo Trucks UK & Ireland said: "We have developed Volvo characteristics, including ergonomics, comfort and safety, and combined them with innovative technology, such as Alexa, to create an even more attractive and productive driver environment."
Iveco's new S-Way also now includes a voice companion, Iveco Driver Pal, through Amazon Alexa voice commands.
DRIVER ASSISTANCE SYSTEMS
The Actros L is equipped as standard with Active Brake Assist 5, which features a new pedestrian recognition function, and Sideguard Assist, which supports the driver when making left turns and changing lanes in busy environments where visibility may be restricted.
Andreas von Wallfeld, Head of Marketing, Sales and Services at Mercedes-Benz Trucks said: "When developing the Actros L we placed particular focus on driver comfort, safety, connectivity and total cost of ownership to create further benefits in these aspects for our customers and their drivers."
Also, the new MAN CruiseAssist electronic driving assistance function can steer, brake and accelerate the TGX and TGS trucks independently in traffic on the motorway, even in the case of traffic jams.
Even though the driver must keep their hands on the steering wheel at all times, the system takes a lot of the burden off the driver and offers significant safety benefits.
MAN says its new range of features contribute to additional fuel savings of up to 3.7 percent.
"We are making our new truck generation more efficient, safer and more innovative and are placing even more focus on simplifying the day-to-day operations of our customers and drivers", said Göran Nyberg, Executive Board Member for Sales and Customer Solutions at MAN Truck & Bus.
This year, Renault Trucks is upgrading its T, T High, C and K ranges, featuring improved aerodynamics around the front grille as well as added wheel arch extensions to improve airflow.
They will be fitted with new technology to further reduce fuel consumption including an optimised cruise control system with two selectable driving modes.
Its default mode "Eco on" optimises fuel consumption by adjusting acceleration, gear shifting, cruise control and deceleration, while "Eco off" allows drivers to change the driving mode.
A new "Pulse and Glide" function further improves fuel consumption by maintaining the vehicle's speed around the Cruise Control set point (plus or minus 2km/h).
INFORMATION PANELS
DAF's new cabs feature a 12in digital instrument panel as standard, and the option of a secondary 10" display for navigation and infotainment.
Director Product Development at DAF Trucks, Ron Borsboom said: "Tests were performed at DAF's own technical centre and in the labs, but also out on the road with customers.
"By the time we start the production of the new generation DAF we will have amassed the equivalent of more than 20 million kilometres worth of experience with our new trucks, which is unprecedented."
The new Volvo models all come with a digital instrument panel that gives the driver relevant information in different situations. For example, drivers' hours are always displayed, making it easier to schedule operations and comply with regulations.
Road sign identification is another practical function that helps alert the driver to speed limits, overtaking restrictions and road type.
MORE SPACE AND EFFICIENCY
The XF, XG and XG+  are the first trucks on the market to fully benefit from the New European Masses and Dimensions regulations, allowing longer truck cabs.
The XG has an extra 330mm of length behind the B-pillar, and the XG+ adds another 200mm of roof height, meaning 12.5cu m of interior space – 14% more than DAF's previous Super Space Cab.
DAF's new engine range includes six options from 370hp to 530hp, with extensively altered internals, which accounts for about 3% of the manufacturer's claimed 10% overall improvement in efficiency.
Borsboom added: "Throughout the development process, we audited ourselves according to the Automotive Spice Level 2/3, which is the standard used for premium passenger cars. We really have pushed the boundaries in every regard."
Meanwhile, Scania has announced the introduction of a substantially updated 13-litre Euro-6 truck range, scheduled for production start during the second quarter of 2022.
It promises, among other things, "substantial" improvements in fuel consumption compared to the current range, as well as chassis updates.