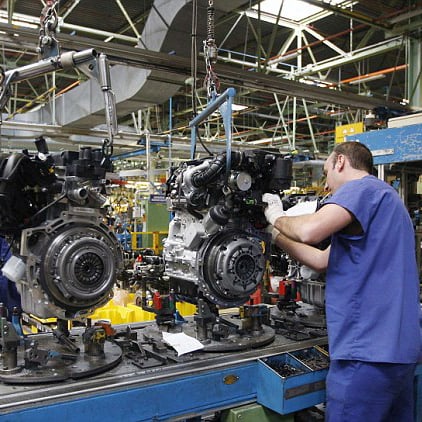 Annual engine output set to surpass three million units
£1 billion invested in UK engine production since 2011.
The revenue generated by engine manufacturing in the UK is expected to increase by nearly a third in the next two years suggesting that the value of engine manufacturing will increase by £2.5 billion in two years.
The industry has seen a spate of new investments come to fruition in 2014, with Jaguar Land Rover's £500 million Engine Manufacturing Centre in Wolverhampton opening this month as well as Ford's £490 million low carbon engine development in Dagenham. These manufacturers are helping ensure the UK is at the cutting edge of powertrain development and production and development programmes like these will help total UK engine output surpass three million units per year, increasing volumes by more than a fifth over current levels.
Mike Hawes, SMMT Chief Executive said, "Recent events, such as the opening of Jaguar Land Rover's new engine facility and Ford's new engine range are clear evidence of the UK automotive industry's intention to become a leading force in the design, development and manufacture of engines.
"The recent success is testament to the expertise of UK engineers, a flexible workforce and the competitive and supportive business environment. It will create more jobs, bolster the supply chain and help attract overseas suppliers back to UK shores."
In 2013, the UK produced 2,553,316 engines, of which 60% were exported to overseas markets. Overall, UK automotive manufacturing generated £64 billion turnover last year, adding £12.4 billion to the economy. More than 770,000 UK jobs are dependent on the sector, which has seen nearly £13 billion investment announced since 2011. In the coming years, UK car manufacturing is expected to surpass the current record production level of 1.9 million units in a year, which was set in 1972.