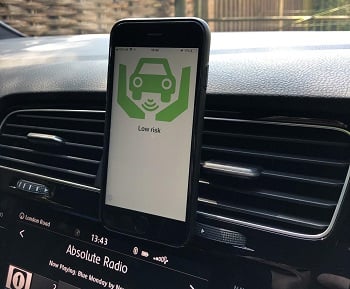 Wouldn't it be great to see potential road accidents before they happen? Fortunately, a UK company has developed an app that can do exactly that, using data provided by the police to accurately warn drivers of every accident hotspot in the UK.
Based on information from 1.3 million accidents over the past 10 years, the Safescape app knows the severity of every accident and its exact time and date. Using its powerful AI, it will continuously analyse various factors in real-time and, combined with this data, calculate a risk score of the approaching location, warning drivers appropriately so that they are aware and prepared.
"There are around 3,500 'safety' cameras on the roads today, but we know most of the 238,000 accidents occurring annually don't even happen at these locations," said Stuart Petersen, VP of Distribution & Partnerships at Safescape Intelligent Systems, the company behind the app. "You only have to look at the meteoric rise in dashcams to realise people want to feel safe in their cars. Safescape arms drivers with the best knowledge to adjust their speed accordingly, intensify their focus and hopefully stay out of harm's way."
The Safescape user interface has been deliberately designed to be simple to use and convey crucial information quickly and without fuss. It uses audible alerts and a visual indicator based on familiar traffic light colours to effectively reflect the severity of the approaching risks.
"Our data API is also able to integrate with third party and OEM offerings like Navigation, Driver Assist and Telematics systems, and adds an excellent additional and critical layer of safety and "eyes" for their customers," commented Alex Luketa, Safescape's VP of Engineering. "We believe in the benefits of this technology and feel sure it will contribute to making our roads safer throughout the UK and eventually the rest of the world. Safescape will be a critical & complimentary safety partner to new systems like ISA (Intelligent Speed Assistance), Autonomous Emergency Braking and Electronic Lane Keeping "
Safescape is available now on the Apple and Android platform on the iOS AppStore and Android Play Store, or for more information visit https://safescape.co/