As the UK economy emerges from one of its most testing periods, it is promising to read that projected growth is positive – with the Organisation for Economic Co-operation and Deployment (OECD) saying that the UK is likely to grow 7.2%, nearly 2% up from the projection made in March this year. Throw in recent vehicle registration data from the SMMT, which reveals that new van sales have reached their second highest level on record, and it feels clear that we are entering into a period of economic recovery. What is even more encouraging is that despite SMEs undoubtedly being hit the hardest throughout the pandemic, as the backbone of the British economy, they are now emerging with the capacity, need and desire to invest in their businesses.
Of course, it is cause for celebration that SMEs are now on a journey of recovery and looking ahead to brighter days, but there is also a real opportunity to learn from the challenges and curveballs that the pandemic threw at those small businesses with fleets. As we look forward to greater economic stability, studies are beginning to reveal the extent to which SME businesses with fleets adapted their operations and how they see their future roadmap to recovery panning out. Each organisation will undoubtedly have a unique set of obstacles to overcome, but research reveals a common trend when it comes to business recovery: digitisation is propelling SMEs forward and enabling them to come back stronger with a competitive edge.
Ensuring survival
In a recent Vimcar study of over 1000 SMEs which operate company car vehicles, over 4/5 of businesses said they have had to significantly adapt their operations since March 2020. With many industries drawing to a complete standstill and travel restrictions impeding on business, many SMEs were forced to reduce their fleet size, with a quarter of respondents claiming that the running cost of managing their fleet has increased since March 2020. Likewise, many industries experienced a surge in demand: with the entire country now relying on deliveries of online shopping, groceries, medication and more, courier services became vital.
Whether it was downsizing or upsizing, SMEs with fleets had to make significant changes to ensure the survival of their business and, in such a financially unstable time, those changes needed to be as efficient and cost-effective as possible. Indeed, 30% of those surveyed adapted to stay afloat and 38% adapted to protect profitability.
A long-awaited digital shift
In order to protect profit and ensure business survival, it's evident that a large proportion of fleet managers and business owners turned to technology. Almost half of the SME businesses polled say that they have implemented a new vehicle management software and 30% turned to a digital platform to manage their company vehicles. Streamlining processes and becoming more efficient as a business operation enabled businesses to save costs and ease the pressure on staff members for whom SME owners had an increased duty of care.
Whilst digitisation has long been heralded as a key component of business growth and success, SMEs have historically lagged when it comes to making the digital shift. Unlike their larger corporate counterparts, many SMEs simply did not have the resources and funds to undertake digital transformation projects without disrupting day-to-day processes.
What the pandemic has proved however, is how crucial it is to digitise and how vulnerable and fragile SMEs are without technology to support their business operations. A report on small businesses' digital transformation by Cisco found that SMEs who are more technologically advanced, enjoy 8x more benefits (revenue) than those who are 'digitally indifferent'. The data gathered in our own survey of UK SMEs also observed that an overwhelming majority of those who adapted using technology said the impact of that technology has been positive.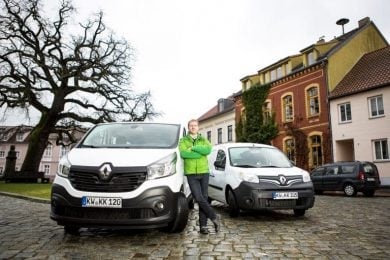 Future roadmap
Adopting more technology was a vital move for SMEs throughout the pandemic but far from being a temporary measure, it is a decision that businesses with fleets will reap the benefits from in the long-term.
As consumers, we have all become more reliant on technology for shopping and services, and SMEs' customers, clients, and staff will therefore be expecting a more digitised, seamless experience. Take a delivery driver for example, who will have grown accustomed to user-friendly, digital platforms in all other aspects of life – when he returns to work, he will be impatient with a company vehicle that cannot help him coordinate trips and avoid unnecessary miles. Likewise, a fleet manager who has become more tech-savvy throughout lockdown will quickly grow frustrated with excel spreadsheets for managing administrative tasks. Digitising a fleet is therefore as much about staff and customer satisfaction as it is about temporarily protecting profit and cost-cutting.
And whilst the post-pandemic outlook is sunny, SMEs with fleets will be all too aware of other obstacles looming over the coming months. Data shows that less than a third of small businesses surveyed are optimistic about business growth over the next 12 months – indicating that many believe they will continue to operate in survival mode for the foreseeable future. Brexit regulations (23%), financial challenges (25%) and high standards of customer expectation (24%) were the main reasons for concern by those SMEs surveyed – concerns which cannot be quelled overnight.
So what is the way forward: how can SMEs move beyond simply surviving and into a state of growth and optimism? There is no simple answer but what we do know is that the roadmap to recovery for UK SMEs with fleets is being driven by the digital shift that occurred during lockdown. Of the SMEs surveyed by Vimcar, 2 in 5 respondents confirmed they will be committing to technology in the next 12 months to overcome any challenges that come their way and support future growth.
The pace of digital change and innovation shows no signs of slowing down and so SMEs who explore and implement new technologies – whether that be to save costs, create efficiencies, support staff, or all of the above – will be the ones to thrive in a post-pandemic world.
---
Author: Ronald Clancy, UK Country Manager for Vimcar