Ecoscape UK wanted a new truck which offered a minimum 5.0-tonne payload capacity but on a compact chassis – Dealer Ciceley Commercials weighed in with an 8.55-tonne FUSO Canter that ticked both boxes.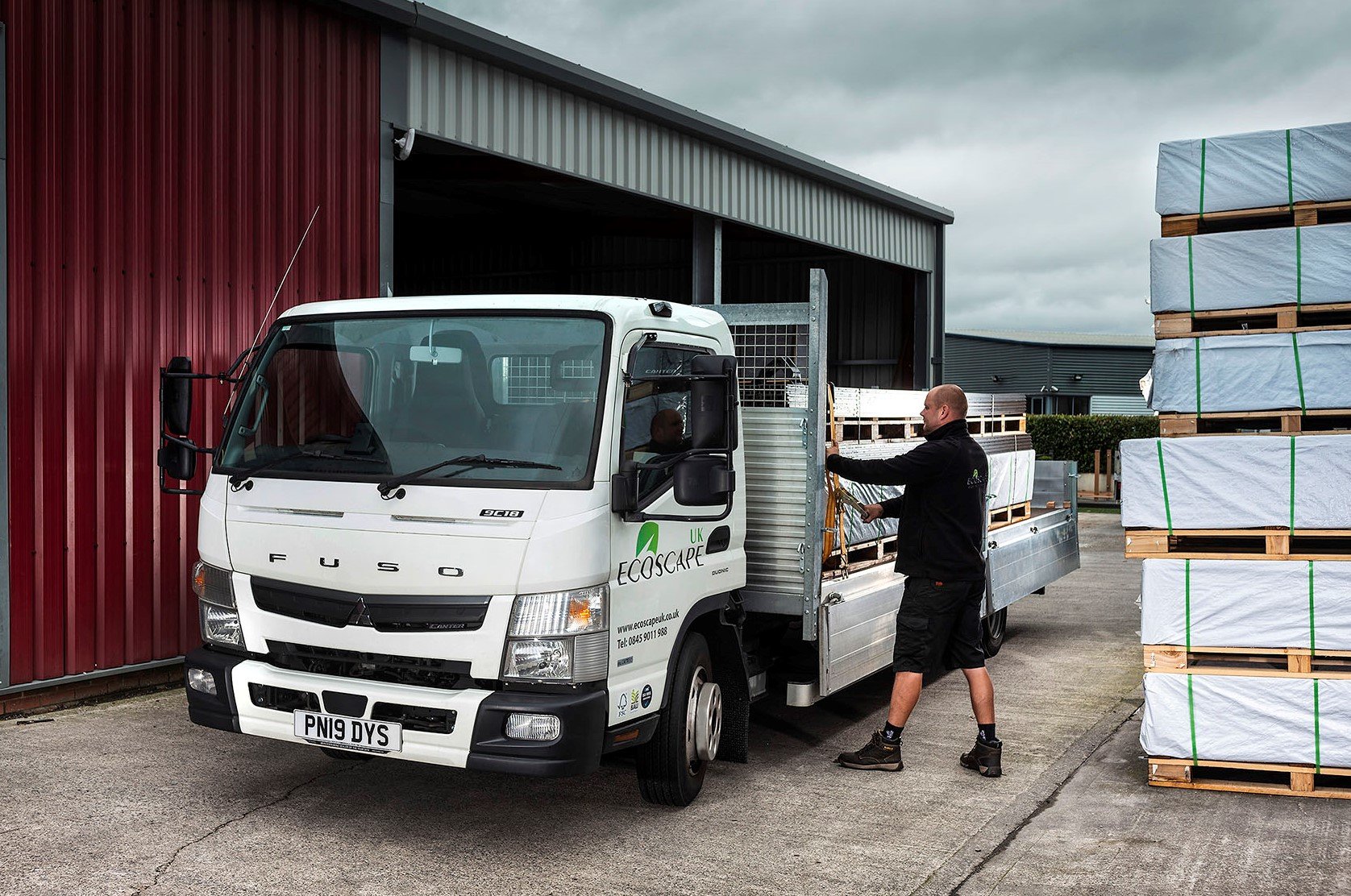 The operator's second Canter is now making deliveries of decking and cladding panels across the North West and beyond, from its base in Heywood, Greater Manchester.
The 8.55-tonne GVW variant tops the Canter range, which also comprises 4×2 versions at 3.5 and 7.5 tonnes, and a 6.5-tonne 4×4. Ecoscape's new truck arrived via Ciceley's Bolton branch – like other members of the FUSO Canter network in Britain, the Dealer also sells and supports Mercedes-Benz trucks.
A 9C18 model, the Canter is powered by an economical 3.0-litre engine which transmits its 129 kW (175 hp) output via a fully automated DUONIC® dual clutch transmission. West Yorkshire Truck Bodies, of Bradford, fitted its all-aluminium 20ft platform with dropsides and four central load-restraining poles.
Ecoscape UK runs five other vehicles, among them a 7.5-tonne Canter 7C15 dropsider which it purchased in 2018. "That truck has proved to be an extremely effective performer," confirmed proprietor Gary Farrell. "It's tough and well built, but light enough to offer an impressive payload of more than 4.0 tonnes.
"With this new truck, though, we wanted to go one step further, and Ciceley Sales Executive Ian McMullan helped us put together the perfect package. We knew we'd need a body that was big enough to carry boards which are up to 4.8 metres in length, so a weight penalty was inevitable.
"Despite this, we still wanted the ability to carry loads weighing up to 5.0 tonnes. The new Canter is the ideal platform, because even with the long body design we specified it exceeds that target figure by more than 110 kg."
In addition to its class-leading carrying capacity the Canter combines compact exterior dimensions with a tight turning circle, which gives it the manoeuvrability and agility to operate at locations where access is restricted.
The smooth-shifting DUONIC gearbox, meanwhile, is standard equipment for 8.55-tonne models. It incorporates Eco Mode, Parking and Creep functions, and is fuel-efficient, economical to maintain, and driver-friendly.
"Our first Canter has proved exceptionally reliable and cost-effective to run, while the feedback from drivers has always been resoundingly positive," said Mr Farrell. "The new truck combines the same attributes with the ability to lug an even bigger load, so it's ideal for our needs."
Ecoscape UK manufactures and supplies a wide range of composite decking and cladding systems, as well as associated items including balustrades, screens, lighting, artificial turf and accessories. The company delivers its products to builders' merchants and other customer premises, and direct to sites.
Acquired with competitive funding support from Mercedes-Benz Finance, its new truck is the subject of a three-year Complete Service Contract and will be maintained in Ciceley Commercials' Bolton workshop. Ecoscape also benefits from Mercedes-Benz Trucks' 24-hour emergency roadside assistance and Zero Tolerance on Downtime pledge, which provides for a free replacement vehicle if the truck cannot be repaired within 24 hours.
"We're not transport specialists, so this package gives us all the peace of mind we need," added Mr Farrell. "It allows us to concentrate on what we do best, while entrusting the maintenance of our vehicle to the experts."