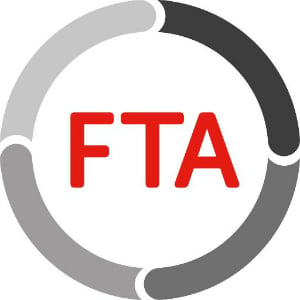 The youngest person ever to pass the demanding Transport Manager CPC exam will receive his certificate from the Freight Transport Association (FTA) at this month's Skills Show at Birmingham NEC.
Sixteen-year-old Bradley Hunt from Tamworth approached FTA at last year's event and chatted to Head of Automotive, Technician and Workshop Development Lawrie Alford, who was so impressed he offered to sponsor him through his Transport Manager CPC course.
And now – just 12 months later – Bradley has passed the exam and is officially the UK's youngest successful Transport Manager CPC candidate. He will receive his certificate during FTA's presentation on the spotlight stage on Saturday 19 November at 12.30pm.
Mr Alford said: "Bradley is a fantastic ambassador for the logistics industry and a great example of the careers on offer to young people – we have a shortage of transport managers, drivers, engineers, technicians and warehouse staff across the sector so we're exhibiting at the Skills Show to highlight all the available avenues young people can go down."
The Skills Show runs from 17-19 November and FTA will be on stand H6-V-12, where visitors can climb aboard Volvo's truck, try their hand at the forklift driving simulator and enter a quiz run in partnership with Think Logistics to win an iPad. FTA member Wincanton will also be on hand to chat to young people and their parents about careers in the industry.
"FTA is committed to highlight the very real need to attract school and college leavers to our industry – reviewing apprenticeship standards and options for young people to succeed within our profession is key to keep modern vehicles moving. The advances of new technology can be challenging for many workshops, but this technology also provides an exciting opportunity for new entrants into transport and logistics.
"With news that the Government's Plug-In Van grant is being extended to trucks, it's worth considering how we can inspire the new generation of engineers and technicians that will be needed to work on these innovative vehicles," said Mr Alford.
FTA has just published its Driver Shortage indicators, that highlight a shortfall of 35,000 drivers across the logistics industry. The research shows that just 1% of drivers are women and 10% are EU nationals, illustrating the importance of EU workers to the sector in the wake of the Brexit vote.
FTA is a sponsor of the Think Logistics programme and works with Career Ready to reach young people in schools and colleges to inspire them to consider careers in the logistics sector. The Association continues to press Government for more investment in apprenticeships and licence acquisition training.