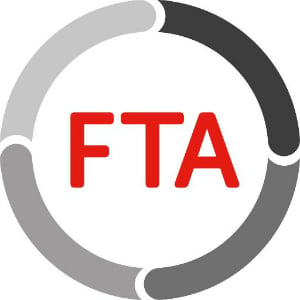 The winner of the Freight Transport Association Driver of the Year 18 tonne competition, sponsored by Bridgestone, has been announced. Craig Stewart of Clarke International has become the overall champion in the 18 tonne competition, demonstrating outstanding professionalism, knowledge and excellent driving skills.
Lee Hawkins of Greggs has been named Young Driver of the Year in the 18 tonne category.
The competition took place on Wednesday (13 September) at Mercedes-Benz, Wentworth Park, Barnsley, with each driver takingpart in six separate tasks in order to evaluate their overall ability – driving style, economical driving, manoeuvring, defect checking, knowledge of legislation and risk awareness. The twelve finalists, who had each been nominated by their fleet manager, were individually scored on each task, ranked on their performance and the overall winner was announced based on the scores.
On Tuesday (12 September) Steve Mumford of BT Supply Chain won the FTA Van Excellence Driver of the Year competition sponsored by Mercedes-Benz Vans UK Ltd, and the 44 tonne competition sponsored by Mercedes-Benz Trucks takes place today (14 September).
Other winners from the 18 tonne contest were:
2nd place – Rob Morris of Bibby Distribution
3rd place – Jamie Jarman of Simply Waste Solutions
Risk assessment supported by Licence Bureau – Sean Preston of Greggs
Legislation test – Mike Pyrah of PJ Carey Group
Pre-use defect checks supported by Bridgestone Partners – Rob Morris of Bibby Distribution
Manoeuvring – Geriant Edwards of Seconds and Co
Economical driving – Guntis Paberzie of Greggs
Driving Style supported by Microlise – Pamela Dennison of WS Dennison
The winners of all three contests – Van, 18 tonne and 44 tonne – will be assessed, and the overall winner of FTA Driver of the Year 2017 will be revealed at the Transport Manager Conference at the Ricoh Arena, Coventry on 29 November.