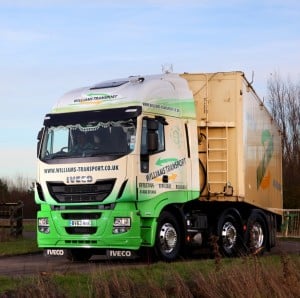 CAPTURE: Ivecos for Williams
Huntingdon-based Williams Transport have taken delivery of their first Iveco Stralis Hi-Way.
Williams Transport trialled a demonstrator AS440S46TX/P from Guest Truck and Van, and Andy Williams, Director, claimed it 'performed very well…beating everything else in the fleet on fuel'.
The Stralis 6×2 twin-steer operates on heavy-duty work with a moving floor trailer, transporting waste paper and compost primarily within the South-East.
Williams Transport plan to run the HGV for six years, covering up to 140,000km per annum.
"Bal Singh from Guest Truck and Van has been keeping us up-to-date on the latest Stralis developments," said Mr Williams.
"He brought one of the new Hi-Ways over to see us, we liked it, so we decided to give it a go.
"We have a dedicated driver for every vehicle we operate and the driver is very happy with the Stralis; I don't think I'd get him out of it!"
Fitted with long-range fuel tanks, the new Iveco is powered by an EEV-rated FPT Industrial 10.3 litre Cursor 10 engine.
It also features Iveco's proven EuroTronic automated transmission as standard, which is manufactured for Iveco by ZF.