Fleet managers and drivers are still not fully up to speed about the use of mobile phones while driving.
The introduction of new laws in March 2022 effectively closes legal loopholes that have emerged since the use of handheld mobile phones to make or receive calls or texts while driving was outlawed in 2003.
Those caught in breach of the new rules face three penalty points and fines up to £1,000 – or up to £2,500 for drivers of buses and lorries.
A recent survey of transport managers by Fleet News found that 42% were not aware of the rule changes while one in 20 knew that laws were being tightened but didn't know when.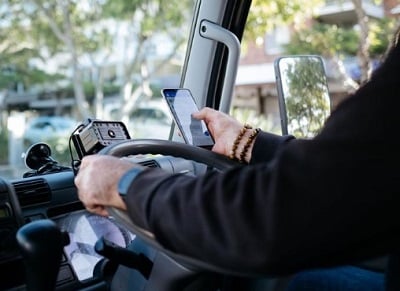 According to the new law, it is illegal to hold and use a phone, sat nav, tablet, or any device that can send or receive data, while driving or riding a motorcycle. You are not allowed to use a device in your hand for any reason, whether online or offline.
The law still applies if you are:
stopped at traffic lights
queuing in traffic
supervising a learner driver
driving a car that turns off the engine when you stop moving
holding and using a device that's offline or in-flight mode
You can use devices hands-free, as long as you do not hold them at any time during usage. There are also exceptions to the rule, such as calling 999.
"Three months after introducing new laws, there's still confusion about what the law changes mean for the logistics industry," said Daniel De Vaney, Senior Account Executive of connected operations platform Samsara.
"That's why we're holding a short webinar to shed light on what organisations can do to raise awareness of the law and protect drivers."
Hosted by Samsara, the live webinar will take place this July to help fleet managers keep their drivers on the right side of the law. Ian Stanley, Director, Fleet Point, plus other industry experts will be joining us to discuss the new legislation and provide practical commentary on the subject.
---
Webinar Details: Date: Wednesday, 6 July; Time: 10:00 – 10:40 (BST)
Sign up: HERE