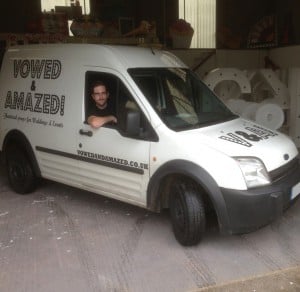 CUT: Vowed and Amazed reap LPG benefits
Theatrical and wedding props business Vowed and Amazed are dramatically cutting fuel costs and emissions by wheeling out autogas LPG.
The High Wycombe-based business are expecting to consistently achieve 40% fuel cost cuts with an LPG-converted 2005 Ford Transit Connect van.
Stuart Thorn, who runs Vowed and Amazed, said that due to increased business the firm needed an extra van earlier in the year.
He added that, as he had heard about how much cheaper autogas LPG was compared to petrol or diesel, a converted model was top of his list.
"I do most of the driving for the business, so having a van that drives the same as the equivalent petrol or diesel version was very important, especially when I typically cover 14,000miles a year for work," he said.
"Our LPG-converted Transit is just the job and you can't notice any difference in performance when it switches from petrol to autogas LPG.
"However, the big difference you do notice is when you visit the forecourt and fill up thanks to it being so much cheaper."
Paul Oxford, Business Development Manager at Autogas Limited, added: "Stuart's hit the nail on the head when he points out the very appealing cost saving aspect of autogas LPG.
"Whether you're a car driving private motorist, small to medium size business with a van, or even a larger concern, then autogas LPG offers significant savings at the forecourt.
"The added bonus is that it's much cleaner than either petrol or diesel, producing less CO2 emissions, fewer oxides of nitrogen and also less small particle emissions than diesel."