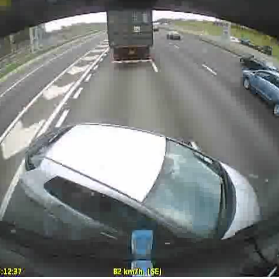 SHUNT: Haulier avoids insurance hell
A haulage company have avoided an insurance nightmare after a dashboard camera captured one of their lorries shunting a car side-on 100metres along the M25.
Footage proved the accident was caused by the hesitant driver of the ploughed Honda Civic, after he failed to join the motorway lane correctly.
The video, seen below, meant that a claim was not submitted, potentially saving the haulier a fortune in insurance costs.
Simon Marsh, Managing Director at Smart Witness, said: "Drivers worry blame will always be attached to them when they hit another vehicle from the rear, particularly when there are no reliable witnesses.
"In this case, the lorry driver was very relieved his Smart Witness camera meant he could quickly prove the accident was not his fault."
Gary Humphreys, Group Underwriting Director for Markerstudy Group, added: "These cameras are a cheap and effective device to help innocent motorists and we expect they will become more commonplace.
"Camera technology adds a visual element in helping insurers decide fault in the event of an accident, as well as providing individuals with evidence following road rage incidents or dangerous driving.
"We have had claims for incidents on roundabouts and over lane discipline where the camera has proved vital in determining liability and has enabled us to avoid long drawn out disputes."