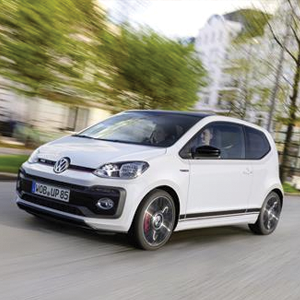 Even before its official UK debut, set for early 2018, the forthcoming up! GTI is already a winner – today scooping the charismatic title of 'Pocket Rocket of the Year' from BBC TopGear Magazine. 
Describing the soon-to-be-launched smallest member of the GTI family, the BBC TopGear Magazine experts said: "As unserious and playful a car as Volkswagen has made this decade". 
Created, at least in part, as a tribute to the iconic original Golf GTI, and coming 41 years after the first Golf GTI made its debut, the new up! GTI promises the same sense of driving fun as its famous forefather.
The up! GTI is a compact hot hatch that broadly follows the format of the original 'hot' Golf. The vehicle concept and power output of 115 PS put the up! GTI approximately in line with the Golf GTI Mk 1, launched in 1976, that had an output of 110 PS.
The up! GTI further pays tribute to this icon via its compact dimensions, low weight, powerful engine, greater downforce on the rear axle, sport suspension and, of course, the typical insignia of a GTI including red stripes in the radiator grille, red brake calipers, 'Clark' tartan seat covers and a unique wheel design.
Indeed key data for the new up! GTI does read somewhat similarly to the stats of the Golf GTI Mk 1 with a sub-one tonne weight figure (997 kg); a maximum speed of 122 mph, and a 0-62 mph time of 8.8 seconds.
What is certain is that the up! GTI, with its 1.0 TSI engine, will add a new dimension of driving fun to the smallest car class. UK pricing and specification information will be announced closer to the car's launch.