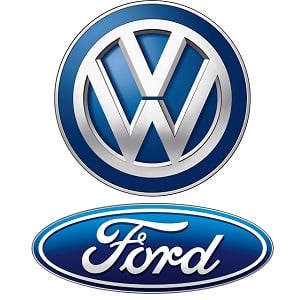 Volkswagen and Ford say they are under discussion to build vans together in a joint venture.
While both companies say they are discussing several joint projects, at the top of the list is the development of a global commercial vehicle range.
 VW and Ford said that if both companies were to agree an alliance it would not involve equity arrangements, and cross ownership stakes.
Jim Farley, Ford's president of Global Markets, said:
 "Ford is committed to improving our fitness as a business and leveraging adaptive business models – which include working with partners to improve our effectiveness and efficiency."This potential alliance with the Volkswagen Group is another example of how we can become more fit as a business, while creating a winning global product portfolio and extending our capabilities.
"We look forward to exploring with the Volkswagen team in the days ahead how we might work together to better serve the evolving needs of commercial vehicle customers – and much more."
Dr Thomas Sedran, Head of Volkswagen Group Strategy commented:
"Markets and customer demand are changing at an incredible speed. Both companies have strong and complementary positions in different commercial vehicle segments already.
"To adapt to the challenging environment, it is of utmost importance to gain flexibility through alliances. This is a core element of our Volkswagen Group Strategy 2025. The potential industrial cooperation with Ford is seen as an opportunity to improve competitiveness of both companies globally."