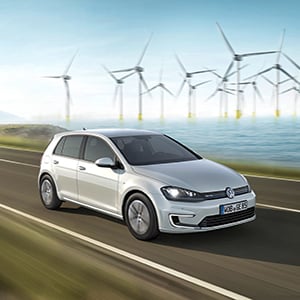 SHOWROOM: New e-Golf is priced from £25,845
Volkswagen's new e-Golf is now on sale, priced from £25,845.
The all-electric offering, which boasts a range of 118miles, a top speed of 87mph and a full charge time of 13hours, will enjoy first deliveries in June.
It reaches 0-62mph in 10.4seconds, and is eligible for the £5,000 government grant.
The e-Golf can be charged from a household three-pin socket, with an optional wallbox – available through British Gas – boosting the full charge time to eight hours.
Available with five doors only and in a single trim level, standard equipment includes 2Zone climate control, front and rear parking sensors, e-specific 'Tilleves' alloy wheels and Discover Pro satellite navigation.