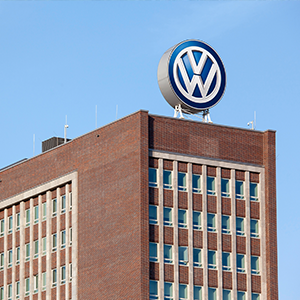 The Volkswagen Group handed over 940,800 vehicles to customers in October, an increase of 8.2 percent compared with the previous year.
"October showed that our customers all over the world trust our brands and products. Group deliveries grew significantly in all regions", Fred Kappler, Head of Group Sales at Volkswagen Aktiengesellschaft, commented. The Group handed over 8.7 million vehicles to customers worldwide in the first ten months, an increase of 3.2 percent.
Deliveries in Europe rose significantly in October: 350,500 vehicles (+3.8 percent) were handed over to customers there, of which 284,300 (+1.4 percent) were delivered in Western Europe. In Germany, 103,400 (+0.8 percent) customers chose a new vehicle from the Group. The good performance was in particular due to developments in Central and Eastern Europe, where 66,200 new vehicles (+15.5 percent) were delivered. The Group has enjoyed solid growth of 3.0 percent in Europe since the beginning of the year.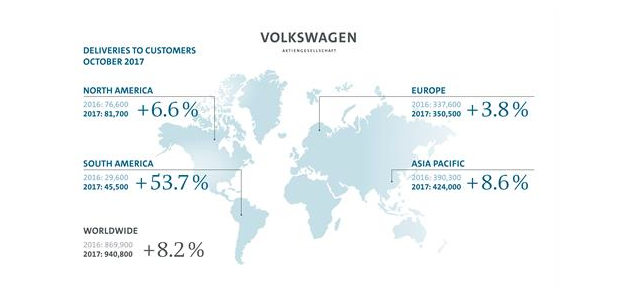 Once again, the Group reported significant gains in the North America region in October, handing over 81,700 new vehicles (+6.6 percent) to customers. This is attributable to deliveries in both the USA (+10.1 percent) and Canada. The upward trend on the South American market continued in October. Group deliveries in the region rose significantly to 45,500 units (+53.7 percent). This trend was primarily driven by Brazil, where 26,700 vehicles (+67.6 percent) were delivered, and Argentina. The Group has recorded double-digit growth of 24.5 percent in the region since the beginning of the year.
Group deliveries in the Asia-Pacific region in October increased by 8.6 percent to 424,000 vehicles. With 398,100 vehicles delivered (+9.4 percent), China strengthened the region's good performance. By the end of October, some 3.3 million customers in China had taken delivery of a new vehicle from the Group.