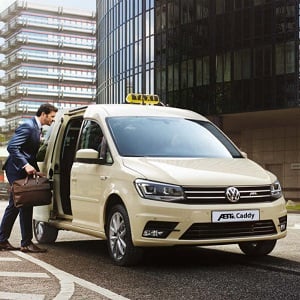 If you're looking for a new van for urban deliveries, then check out the new Volkswagen Commercial Vehicles all-electric ABT e-Caddy.
It launches mid-2019. With zero-emissions the ABT e-Caddy has a range of over 130 miles – ideal for urban deliveries.
 The new ABT e-Caddy was launched as a spacious taxi for five people plus luggage at the Hannover Show (September 19-27, 2018). But it will also be a panel van.
The drive system for the ABT e-Caddy was developed by ABT e-Line GmbH.
An 82-kW electric motor powers the front wheels of the ABT e‑Caddy via an automatic single-speed gearbox. A fully discharged battery can be charged to 100 per cent in under  six hours from a domestic 7.2 kW wallboxes. Using the quick charge method at 40 kW, the battery can be charged to 80 per cent capacity in just 49 minutes.
The 1ABT e-Caddy will launch as a Caddy Maxi with a cargo volume of 4.2 cu m. Its maximum payload will be 635 kg.
The ABT e-Caddy can be configured as a commercial vehicle panel van (no windows at rear) and kombi (with rear windows) – or as a passenger carrying vehicle.