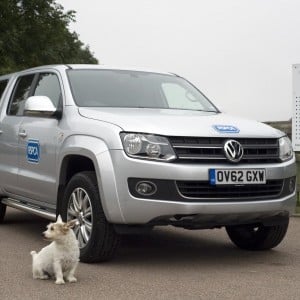 REHOMED: RSPCA hail Amarok
More than 1,200 pets have been successfully rehomed by the Royal Society for the Prevention of Cruelty to Animals (RSPCA) – with help from a Volkswagen Amarok.
Volkswagen provided Southridge RSPCA with the vehicle a year ago, to collect and distribute supplies to keep animals healthy in all conditions.
More than 800 cats and dogs and seven horses have been rehomed since the loan began.
The van has been used to pick up weekly pet food donations, mend fencing around the 16acre RSPCA site and tow horse boxes as far as Scotland.
Anna White, Manager at RSPCA Southridge, said: "Having the Volkswagen Amarok at the Centre has been incredible – it has allowed us to just get on with things, without thinking about whether the vehicle would be able to cope.
"When it snowed earlier this year, one of our animals was in a critical condition.
"In any of our other vehicles, we wouldn't have been able to get down the lane to get him to the vet in time to save him, but the Amarok just handled it effortlessly.
"I used to worry about getting stuck when I was towing a horsebox across the field – now I'm secure in the knowledge that it's not going to happen."
Alex Smith, Director of Volkswagen Commercial Vehicles, added: "We are thrilled to hear that the Amarok has been such a valuable addition to the RSPCA centre in Southridge.
"Enabling the RSPCA to carry out its work more easily is just one of the ways in which we have been lucky enough to demonstrate our ongoing support for local businesses and worthy causes across the UK."