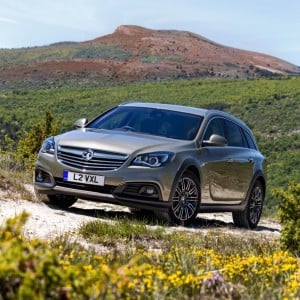 ADDITION: New Insignia Country Tourer
Vauxhall are to add a rugged SUV-inspired all-purpose estate to their new Insignia collection later this year.
The top-of-the-range Insignia Country Tourer is based on the Sports Tourer model, but encompasses all-wheel drive, higher ground clearance and tougher styling.
It will be unveiled at the Frankfurt Motor Show in September, with prices and full equipment details to coincide.
Two powerful turbo-diesel engines will be available: a 2.0-litre 195PS BiTurbo CDTi, producing 400Nm of torque, and a 2.0-litre 165PS CDTi with 380Nm torque.
Buyers can choose from six-speed manual or a low-friction, six-speed automatic transmission on the 165PS engine, with the 195PS version automatic only.
Vauxhall have so far released limited information regarding the new addition.
Electronically-controlled 4×4 adapts to prevailing road conditions, varying torque distribution seamlessly between the front and rear axles, as well as between the rear wheels.
Its sensors constantly feed individual control modules with information on yaw rate, acceleration, steering angle, wheel speed, throttle pedal position, engine speed and torque.
Front/rear power distribution is adapted to the driving situation based on such information.
To reduce frictional losses and save fuel, the system automatically reverts to front-wheel drive whenever it senses that no adaptive interventions are required.
Off road, the new Insignia Country Tourer also benefits from larger tyres and a raised ground clearance of 20mm higher than the standard model.
Stuart Harris, Head of Carline Brand at Vauxhall, said: "The Insignia Country Tourer is perfect for a winter holiday, on snowy roads, or simply when the going gets tough.
"Even on urban roads its robust looks give it strong stand-out appeal."