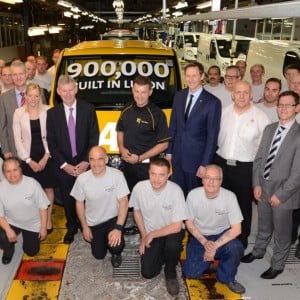 HIT: Luton workers celebrate 900,000 Vivaros
Vauxhall are celebrating a monumental 24hours after manufacturing their 250,000th Astra Sports Tourer and their 900,000th Vivaro-type van.
Vauxhall's Ellesmere Port site was first to enjoy the Astra milestone, before the Luton facility joined the festivities with their Vivaro landmark.
Duncan Aldred, Chairman and Managing Director of Vauxhall, said: "We are very proud to celebrate these milestones at our UK production facilities in our 110th anniversary year.
"Our hardworking and dedicated workforce at Luton and Ellesmere Port produce vehicles of exceptional quality so it is no surprise these UK-built models are so successful in the marketplace."
The UK's best-selling estate car, the Astra Sports Tourer is assembled solely at Ellesmere Port for export across Europe.
Its upper-body structure was 100% engineered by Vauxhall staff based at Millbrook, Bedfordshire, with key dynamic elements tuned for UK roads by the same team.
Production of the current model began in 2010.
The 900,000th Vivaro was handed over to the AA, one of Vauxhall's biggest customers, with AA Patrol of the Year Tony Rich at the wheel.
More than 150,000 Vivaros have been sold in the UK, including 9,000 this year.
Edmund King, President of the AA, added: "We are honoured that this landmark Vivaro is going in to service with the AA.
"Tony is very much looking forward to driving his new van and I'm sure his visit to the plant is one call-out he'll never forget!"
Both Vauxhall plants have been allocated new products securing production into the next decade.
Ellesmere Port was awarded the accolade of lead European manufacturing plant for the next generation Astra, while Luton will build the next generation Vivaro.
Both plants employ more than 2,500 people in the Luton and Ellesmere Port areas, with indirect employment of a further 15,000.
The Luton plant built 53,000 vans in 2012, 22,000 so far this year, and are currently running at a rate of 198 per day.
Ellesmere Port manufactured 95,000 vehicles last year and 37,000 so far in 2013, at a rate of 530 per day.
Both facilities are significant contributors to the local and national economies with 76% of vehicles built for export.