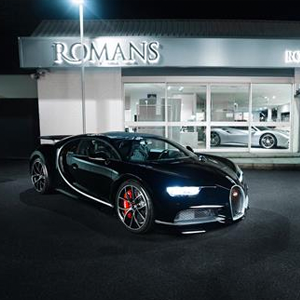 A savvy supercar owner is set to cash in with a cool £1 million profit when he sells his nearly new, 1,000-mile Bugatti Chiron – the first 'used' example to be offered in the UK.
While simply driving the majority of new cars off the forecourt can wipe thousands off their value, the 261mph supercar has bucked the trend and soared in value to £3.6 million – an increase of £1.1 million over its list price of £2.5 million.
On sale at specialist supercar dealer Romans International in Surrey, the Bugatti Chiron is the most powerful, the fastest, the most luxurious and the most exclusive production super sports car. The black Chiron is one of the very first ones to be delivered in the UK with Bugatti set to build 500 examples over the next 10 years.
If the Bugatti wasn't special enough already, its owner ticked the options for a leather and carbon interior at an eye-popping £53,000 and carbon fibre seats for nearly £16,000 – the latter the price of a new, near top-of-the range Ford Fiesta.
But while it's one of the world's most exclusive and expensive 'used' cars, the Chiron will fit in just fine at Romans International. The family dealership has specialised in supercars for nearly 20 years and this year has already sold a Maserati MC12 and a pair of Ferrari LaFerraris, with all three of those supercars approaching prices of £3m each.
Tom Jaconelli, Director of Romans International, said: "Although the Chiron is not yet sold out, if you place an order today you will be waiting at least three or four years before the car could be built and delivered, so we are offering the chance to 'jump the queue' but of course there is a hefty premium to pay for this privilege.
"We often see the world's most beautiful and expensive cars in our showroom but the Bugatti Chiron is the ultimate, it's the most desirable car in the world today and we're thrilled to have the first example openly for sale on the market."