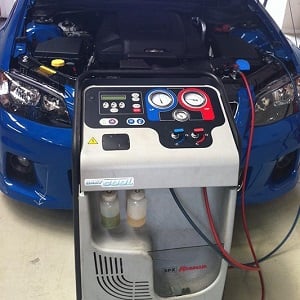 The UK's biggest online garage and car repair marketplace has revealed that drivers in the UK have spent more than £100k on air conditioning services in the last two weeks due to the heatwave. Based on internal data, 2,862 air conditioning jobs have been posted on site in the last two weeks.
WhoCanFixMyCar.com has revealed that UK drivers have spent £129,672 on air conditioning services since the 11th June 2018, based on the national average air conditioning service cost of £45.34.
On the 25th June 2018, when temperatures reached highs of 28.6 °C, 1,131 jobs for an air con re-gas were posted on WhoCanFixMyCar.com, the busiest day of the year for air conditioning servicing.
The marketplace predicted that there will be over 1 million air con units serviced in total in the months of June, July and August, having already seen a 2500% increase in requests in May compared to April.
In May 2018 alone, circa 350,000 drivers nationwide had an aircon re-gas performed on their cars – the most common aircon service. Taking the increase in demand into account, it is anticipated that a further 1 million drivers will need an aircon re-gas performed this summer.
The UK has experienced multiple heatwaves over the past month, which WhoCanFixMyCar.com believes has prompted drivers to get their air conditioning units serviced.
In response, WhoCanFixMyCar.com has created a page on site for drivers to view and compare prices for re-gassing air conditioning units in their local area here: https://www.whocanfixmycar.com/services/aircon-regas
Air conditioning units should be serviced at least once a year to ensure optimum efficiency. Checking the air conditioning is not part of a MOT test, so if drivers are not proactive with getting it checked and re-gassed regularly, the unit will blow out hot air instead of cool and ultimately need repairing, which can cost hundreds of pounds.
It's also recommended that drivers turn the air conditioning on in the winter because leaving it off for long durations of time can cause damage to the system.
WhoCanFixMyCar.com is an online car garage and repair marketplace connecting more than 11,500 garage and repair centres with drivers around the UK. The site has 1m users and recently processed more than 170,000 quotes through the site in one month.
Al Preston, co-founder of WhoCanFixMyCar.com, said,
"If demand for air con services continues to increase at the rate it is then garages are going to be inundated with work; it's great for them but they need to be prepared for the influx of jobs.
"Some drivers don't realise their air conditioning units need servicing and as it's not part of a MOT test it falls under the radar. I think what has happened is people have been using their air con units more in recent weeks and realised it's not working the way it should, so are booking in for a service. Let's face it, there's nothing worse than driving in a hot car, so I'm not surprised that drivers are rushing to get it fixed.
"I'd recommend that members of the public shop around for repair and servicing costs, as it can be expensive. Our onsite calculator makes it easy to find and compare prices, so hopefully not many drivers will be left without their essential air conditioning this summer!"