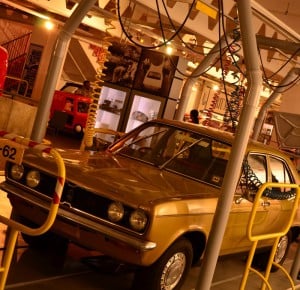 RECORD: UK produced 1.92million in 1972
Britain may overtake France as Europe's second-largest automotive producer by 2018, experts claim – if sales and exports maintain their current strong growth.
Industry executives, speaking at the Society of Motor Manufacturers and Traders (SMMT) conference in London, were quoted by Reuters as saying Britain could overhaul France's output given current conditions.
According to European Car Industry Association (ACEA) data, 1.5million cars were produced in Britain last year, compared to 1.9million in France.
However, volumes are slipping in France, largely due to slowing sales at major carmakers PS Peugeot Citroen and Renault.
Tim Abbott, Managing Director of BMW UK, said: "It will be about the demand for the cars made in the UK but that looks to be there judging by the recent performance of the likes of Jaguar Land Rover, Nissan and BMW."
Mr Abbott predicted Britain's output from the eight main car plants could hit two million by 2018, ahead of the 1.92million vehicles produced in record-breaking 1972.
Germany is still set to be top dog by some distance, however; the country churned out 5.5million vehicles last year.
The recession caused European new car demand to fall to a 17-year low in 2012, with Eurozone unemployment reaching record highs and credit drying up.
However, Britain has delivered 15 straight months of car sale growth – making the country Europe's only bright spot.
Nissan's Sunderland plant is operating at close to full capacity, while production at BMW's Mini factory in Oxford is also rising.
Last year, 82% of UK-built cars were shipped overseas, according to the SMMT, with emerging markets now accounting for a third of the total.
Andy Palmer, Executive Vice President of Nissan, said Britain needed to persuade more manufacturers worldwide to base their operations in the UK to continue growth.
Led by Joe Greenwell, the newly-formed Automotive Investment Organisation (AIO) will aim to achieve that feat, armed with up to £3million investment over the next two years.
"You could see it happening [UK overtaking France] if UK plants are at full capacity, which they are not far off being," added Mr Palmer.
Additional reporting by Rhys Jones (Reuters), with thanks.