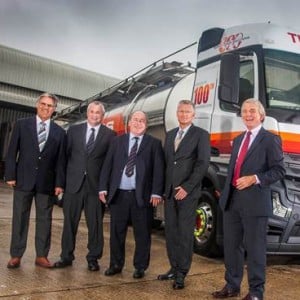 LANDED: Turners team celebrate 100th truck
Newmarket-based transport company Turners are celebrating after bagging their hundredth Mercedes-Benz New Actros tractor unit.
The specially-liveried landmark vehicle, a 450hp New Actros 2545 with narrow, 2.3metre-wide aerodynamic StreamSpace cab, was supplied by Orwell Truck and Van.
It pulls a tank trailer, with Turners having four vehicles assigned to their distribution contract with a leading AdBlue producer.
Turners set their first New Actros 'seed' unit on the road just over a year ago.
The company then commissioned a further 58 vehicles shortly before Christmas, and have since taken the remainder in batches.
All are 2545 StreamSpace models, but approximately half have full, 2.5metre-width cabs.
Tim King, Group Fleet Engineer at Turners, said: "We allocate those to the long-haul drivers who are out all week and appreciate the extra space and comfort.
"Our New Actros have been faultless and are now firmly established as the most economical vehicles on the fleet.
"It's difficult to quote precise fuel figures because the applications and routes vary so widely, which is why we focus on driving styles.
"But when operating at 44tonnes gcw for most, if not all of the time, these vehicles are consistently returning mpg figures in the high nines and even tens.
"This puts them at between a third and half a mile per gallon ahead of the 440hp units from the last Actros range, which had been setting the standard for fuel efficiency."
Turners purchased their first Mercedes-Benz truck from Orwell Truck and Van as recently as 2010.
Today, in addition to 100 New Actros, they also have a similar number of previous generation Actros.
These vehicles are all inspected and serviced under seven-year Mercedes-Benz repair and maintenance contracts.
"With first Actros and now New Actros, our experience of operating Mercedes-Benz vehicles has been positive," added Mr King.
"As well as being fuel-efficient they're also exceptionally reliable and popular with our drivers.
"That's why the New Actros is now our vehicle of choice for mainstream distribution, refrigerator and container work.
"We're very pleased too, with the customer-focused service we receive from the fleet sales team at Mercedes-Benz UK, and from Orwell Truck & Van – the dealer understands our requirements and does all it can to support us."
Turners are recent winners of the Carbon Reduction Through Fuel Efficiencies Award at The Freight Transport Association's LCRS (Logistics Carbon Reduction Scheme) annual conference.
They run a fleet of around 1,100 trucks and 1,400 trailers from a network of 32 locations nationwide.
David Grant, Managing Director of Orwell Truck and Van, said: "I am delighted that by virtue of product excellence and our total commitment to operational support, Orwell Truck and Van has established such a successful working relationship with one of the UK's largest private sector truck operators.
"The rapid development of our partnership with Turners is a direct result a great deal of hard work by many members of the company team, but particularly our Fleet Truck Sales Manager Martyn Beverley and our Contracts Manager Ryan Cory."