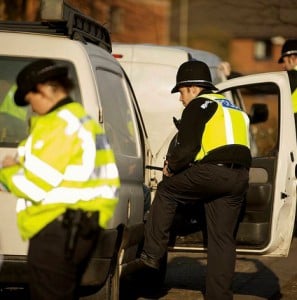 TRACKED: Police recover van within an hour
A Tracker stolen vehicle recovery (SVR) unit has played a key role in recovering an engineer's stolen van and tools in just fifty minutes.
The recovered vehicle and valuable equipment was nabbed from an employee of Lanarkshire-based KD Doors while on a job.
However, being a Tracker Fleet customer, with Tracker SVR units fitted to all vehicles, the company were able to locate the van within an hour.
Mark Keel, of KD Doors, said: "One of my engineers called me in the afternoon to let me know his van had just been stolen.
"I was obviously very concerned.
"Not only was the van itself valuable, but the tools and equipment inside were equally valuable.
"The loss of both would have been a major hit on our business.
"I called 999 and gave them details of the Tracker SVR unit and 50minutes later the vehicle was located and recovered.
"The thieves had apparently left it there to check if it had a tracking unit on it, and so the van was recovered with all my equipment inside.
"After the initial shock it was a real relief to know I had a Tracker on my vehicle, ensuring that it could be located swiftly with everything safe inside."
Tracker's range of SVR products work like electronic homing devices, with a covert transmitter hidden in one of several dozen places around the vehicle.
Unlike other systems, Tracker's devices work no matter where the vehicle or equipment is hidden, even if taken abroad.
Stephen Doran, Managing Director of Tracker, added: "A stolen vehicle can represent a major loss for a business, as it's not just the vehicle that's of value.
"This case highlights how the loss of a van and valuable tools and equipment is a security concern for all businesses.
"Because Tracker's SVR system is operated by all UK police forces, it provides unparalleled support to officers locating stolen vehicles.
"Tracker's award-winning technology continues to help businesses protect their assets and aid police in bringing vehicle thieves to justice."
Image courtesy of West Midlands Police, with thanks.