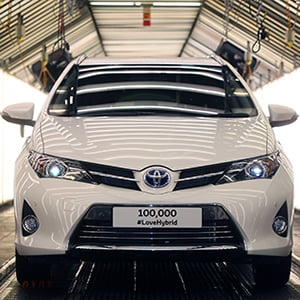 LANDMARK: Toyota Auris Hybrid Touring
Toyota have passed the 100,000 mark for hybrid car sales in the UK.
The landmark car, which came less than 14years after the debut launch of the first Prius, was a British-built Auris Hybrid Touring Sports in range-topping Excel trim.
Produced at Toyota's Burnaston plant, the variant's hybrid system includes a 1.8litre VVT-i petrol engine manufactured by TMUK at Deeside, North Wales.
The vehicle will be delivered to a fleet customer.
Today, there are six different Toyota hybrids, covering the market from compact superminis and family hatchbacks to seven-seat MPVs.
Expansion of the range has gone hand-in-hand with accelerating sales; global sales of Toyota group hybrids are nearing seven million, with Prius now among the world's most popular cars.