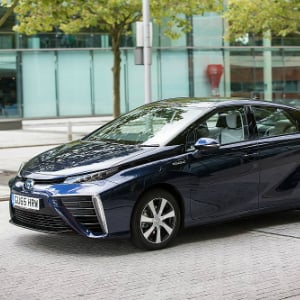 The market for hydrogen fuel cell vehicles may be in its early stages, but the Toyota Mirai has made a winning start by claiming a class victory in AutoVolt magazine's 2016 awards for hybrid and electric vehicles.
Mirai went on sale last year in the first European wave of the groundbreaking car's global launch. The world's first full production fuel cell saloon, it benefits from two decades of Toyota's research and development of a hydrogen-fuelled powertrain. It produces no harmful emissions when driven, offers strong performance and is designed to be as practical to use as a conventionally powered vehicle.
Jonathan Musk, AutoVolt's founder and editor, said: "Mirai is the first commercially available Toyota hydrogen fuel cell car, but it feels like it's been making them for decades. Judges applauded Toyota for its ambition in bringing Mirai to a world market and for creating a car that's convincingly uncompromised."
He added that Mirai's qualities should "prove persuasive" in the building of hydrogen infrastructure to support the wider manufacture and customer uptake of fuel cell vehicles.