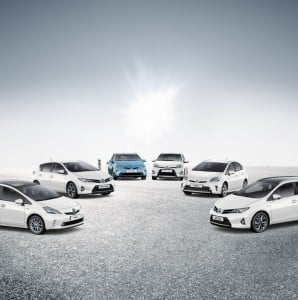 SMASH: Toyota hit six million hybrid sales
Toyota are celebrating after reaching 6.072million global hybrid sales.
The manufacturer, who smashed the six-million landmark in December, reached the latest million-milestone in the fastest time yet – just nine months.
Toyota currently sell 24 hybrid passenger car models and one plug-in hybrid in approximately 80 countries and regions around the world.
In the UK, home to the hybrid versions of Auris and Auris Touring Sports, the range extends to ten Toyota and Lexus hybrids, plus Prius Plug-in.
Within the next two years, Toyota will launch 15 new hybrids.
Toyota claim their hybrids have reduced the amount of CO2 entering the atmosphere by approximately 41million tonnes, compared to the same number of equivalent petrol-powered vehicles.
On the same basis, the manufacturer also estimate their hybrids have saved around 15,000,000,000litres of petrol.