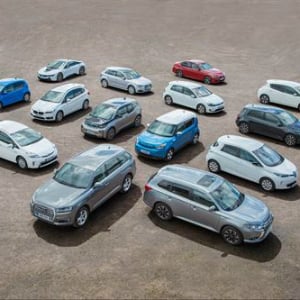 Last year, LCVs racked up 48.5 billion miles on Britain's roads, that's a rise of 69 per cent in the last 20 years. Racking up all those miles adds up for a business' overheads, and can also have a significant impact on the environment.
With the government announcing a ban on the sale of diesel and petrol cars by 2040, making sure the fleet is energy efficient is now more important than ever. While 2040 might seem like a long way away, other initiatives to cut down emissions are much closer.
For example, in October the Mayor of London, Sadiq Khan, will introduce a £10 emissions surcharge – also known as the toxicity charge, or T-Charge. This will be added on top of the existing £11.50 congestion charge, and is expected to affect approximately 10,000 vehicles registered prior to 2006. While these initiatives may not impact all fleets, there are benefits for reducing businesses' environmental impact.
 Cutting down on excess fuel consumption
With fuel being one the greatest expenses for companies who rely on the roads, reducing excess fuel consumption is one of the best ways to reduce environmental impact and boost bottom line.
Getting to grips with data and analytics can be a simple way to drive improvements in this area. Technologies such as fleet tracking can help identify problem areas. By running a simple report, fleet managers or business owners can gain a clear picture of how their vehicles are utilised, and which vehicles are racking up the most fuel expenses. With this intelligence, they can also more effectively plan how drivers' days are scheduled. This helps reduce the number of miles covered each day to make cost savings and increase energy efficiency.
Monitoring driver behaviour
Taking efforts to minimise fuel consumption a step further, fleet management software can help managers monitor how drivers are impacting fuel consumption and overall energy efficiency. For example, fleet management software makes it simple to spot undesirable driving habits such as speeding, idling and other actions that can waste fuel and resources.
Not only does speeding put the driver and other vehicles at risk, it also reduces fuel efficiency and increases costs. Fleet management tools help business owners see which drivers speed on the job and can coach them to improve their behaviour. It also identifies which drivers leave their engine on while loading, waiting for jobs, or being generally neglectful with their vehicle. By having a clear picture of how drivers are performing, managers can reward their best performers for sticking to their Key Performance Indicators (KPIs) and helping the business run more efficiently.
Staying on top of vehicle maintenance
Vehicles that receive regular maintenance run more efficiently and waste less fuel. By using a fleet management system, businesses can stay on top of vehicle health and receive pre-emptive maintenance alerts. These services can track key indicators such as engine on-time and mileage depending on the type of service a vehicle may need. Once a vehicle hits a point where maintenance might need to be checked, an automatic email is issued or an alert will come up in the reporting suite.
By taking extra care of the fleet, vehicles will run more efficiently and have a smaller environmental footprint. It also decreases the likelihood that vehicles will need to be taken of the road for unscheduled repairs – reducing the risk of an LCV malfunctioning out on a job and boosting safety.
Making the most of the fleet
Real-time data is particularly effective to help drivers find the best and quickest routes to cut down wasted fuel. Fleet managers can also plot out which driver is closest to the job to optimise operations across the entire fleet at any one time. By driving energy efficiency gains in this area, managers can improve customer service by providing more accurate estimated time of arrivals to customers.
Making the fleet more energy efficient can be easier than it sounds. By making very small changes to cut down fuel wastage, optimise routes and change driver behaviour, businesses will quickly see the results. By increasing energy efficiency, other key business priorities will also start to improve, from customer satisfaction, to driver safety and cost savings.
Article by : Paul Miller Product Manager, Fleetmatics