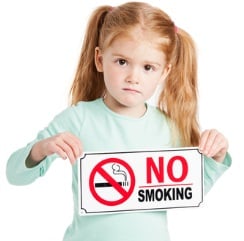 CHANGE: Do you support the smoke ban?
Three-quarters of professional drivers support a ban on smoking in cars carrying children, a survey has revealed.
The poll, by TrackCompare, discovered 75% supported the ban, which earlier this month drew overwhelming House of Commons support and will likely be enforced next year.
Under proposals, those breaching the legislation would incur a small fine.
Kjell Anderton, Director at TrackCompare, said: "While difficult to enforce, a ban sets the right example: the protection of children must be paramount.
"Furthermore, smoking while driving is distracting and should be discouraged.
"Broadly speaking the results are what we expected."