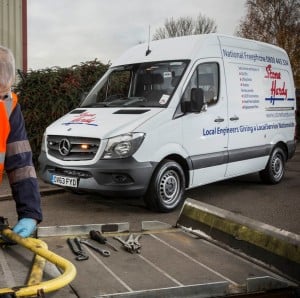 ADDED: Stone Hardy enjoy fuel savings
Stone Hardy are enjoying fuel savings with Mercedes-Benz's new Sprinter van range.
The tail-lift and shutter repair market leaders are wheeling out 37 vans from Hughes of Aylesbury, with the majority being 3.5tonne Sprinter 313 CDI BlueEFFICIENCY models.
Once the last of these new vans has entered service next year, every one of Stone Hardy's 68 service vehicles will be a Mercedes-Benz.
The new Sprinter boasts a 7% fuel economy increase over the outgoing model, with the BlueEFFICIENCY variants enjoying 44.4mpg.
Paul Clark, Managing Director at Stone Hardy, said: "It's too early to get an accurate picture.
"But the first guys out in the field to whom we've allocated the latest model Sprinters report that they're definitely making fewer visits to the filling station, which is encouraging."
Stone Hardy commissioned their first 23 Mercedes-Benz Sprinters on a contact hire deal in 2007, and have added more since.
Those early vehicles proved so reliable and cost-effective to operate that Stone Hardy ran them for an extra year.
"We work our Sprinters hard," added Mr Clark.
"They're typically loaded to around 3.3tonnes and spend much of their time pulling weight test trailers at up to 1.5tonnes.
"Despite this, they've been good for more than a quarter of a million miles each and have given us virtually no trouble at all, while the service we've received from Hughes of Aylesbury has been great."
Stone Hardy's latest vans are the subject of a contract hire agreement with Lex Autolease and will be maintained by Mercedes-Benz Dealers and at Ryder facilities.
Powered by 129hp engines, Stone Hardy's Compact-bodied Sprinters serve as mobile workshops.