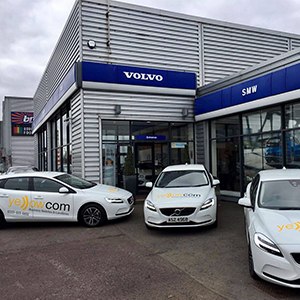 Belfast-based Volvo retailer SMW has helped meet the growing motoring needs of fellow local business Yellowcom Ltd with the delivery of six new fleet vehicles.
SMW recently provided telecoms supplier to businesses in Northern Ireland and Scotland, Yellowcom, with six brand-new Volvo V40s in the fleet-friendly D2 Momentum specification.
The vehicles will be used by its field engineers who provide businesses with on-going technical support, as well as the company's sales team who visit both potential and current clients on a regular basis around Northern Ireland.
Yellowcom director, Andrew Laing, commented: "We wanted our employees to be behind the wheel of vehicles which were reliable and versatile whilst at the same time had a premium image. We pride ourselves in delivering a highly professional service to our clients utilising latest technology and with a forward-thinking approach so we were looking for those values to be reflected in the company which provided our vehicles.
"As our company has grown, we need to expand our fleet of vehicles and we wanted an eco-friendly hatchback that would fit well with our branding. In our view, the Volvo V40 has the same down-to-earth practicality, incorporating technological innovation, which still makes it one of the safest cars on the road, combined with style and presence without being ostentatious. With SMW, we found a company with the same values as our own and we knew they were people we could work with and their service certainly lived up to our high expectations."
Yellowcom delivers a comprehensive range of telecom services including business mobile, landline, VoIP and IP phone systems, broadband and Office 365 solutions.
"We are delighted to have had the opportunity to work closely with another local business to meet their road-going requirements, adds SMW dealer principal, Brian Gibben. "We are confident Yellowcom drivers will enjoy being behind the wheel of the V40 and we look forward to building a strong relationship with the company."
SMW is one of Volvo's 30 dedicated Business Centres operating across the UK to provide a more comprehensive service for fleet customers, by offering specialist knowledge and understanding.
Each Centre has a dedicated business sales manager and administrator, who can provide expert advice and support, including guidance on the various available finance options available and tailoring product choices to best suit business needs. Each centre also operates a fleet of dedicated corporate demonstrators, updated every six months.