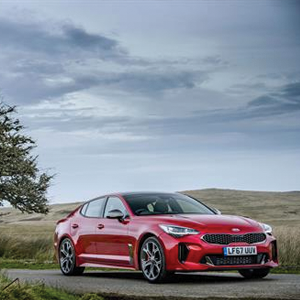 Kia has the most to celebrate, following the announcement of the Southern Group of Motoring Writers' inaugural New Year's Honours.
The Korean brand was judged 'Best PR Office' and its impressive Stinger executive car was joint first in the 'Dark Horse of the Year' category, though overall 'Car of the Year' was the glorious Alfa Romeo Giulia Quadrifoglio, by a wide margin.
The launch of the NY Honours crowns a highly successful year for the SGMW: in May, its annual Karting Grand Prix for the motoring PR fraternity raised another record amount for charity (£4,815) adding to a whopping £17,000 total donated to good causes since the inaugural GP in 2104.
It was followed by the Group's 15th anniversary celebration in August, with a heritage driving day at the National Motor Museum, Beaulieu. Dubbed 'Time Warp', it was attended by PR colleagues from 16 motor manufacturers plus PR contacts, with cars from both heritage and modern test fleets.
The Group also launched the first of a regular series of Sunday 'Breakfast Boost' meetings on October 1: an opportunity for members and PR colleagues to catch up and enjoy the guilty pleasure of a classic 'fry up'.
"So, it's been a busy year," admitted SGMW Chairman Ian Robertson. "But we have cherished the idea of annual awards since a one-off ceremony as part of our 10th anniversary celebrations.
"However, there is a mass of established sector-by-sector annual car awards and we wanted to steer clear of that format, so publicity officer Steve Loader was given the job of coming up with an approach that could work for us."
And Steve explained: "In the end, it came down to keeping it simple, with a few – seven is always a lucky number – awards that we hope will soon become highly coveted, and presented in celebration of two simple factors: those who help us do our jobs and the key cars that have given us most to write (and enthuse) about.
"We also wanted to avoid a celebration bash – at least for now – so, we will award the trophies individually at the winners' offices, and they will get to keep them.
"Finally, the turn of the year allows us to review the complete 12 months just passed and peek into the next 12 – the SGMW New Year's Honours then seemed the obvious title."
The SGMW New Year Honours 2018 in full:
Best PR Newcomer – awarded to someone who made a special impact in his or her liaison with the media during the past year, and is either new to the industry PR scene or has taken on a new role/position.
WINNER
Jess Grimditch – Press Officer, Suzuki: "Alun Parry already ran one of the smallest, yet most highly-rated press offices known to SGMW members, but Jess's charm and efficiency has seen the operation shift up another gear since her arrival in late 2016."
Runner-up
Tom Waugh – Press Fleet Administrator, FIAT Group. "For hitting the ground running and knowing what a journalist needs to get their job done."
Special mention
Mason Finney – Media Relations Executive, Peugeot: "For being the hardest working newcomer, and particularly for keeping the Peugeot test cars clean and presentable at SMMT test day."
The SGMW OBE (Operating Beyond Expectation) – awarded for anyone acting above and beyond the call of PR duty during the past year. It can be for consistent high performance, memorable one-off effort, or a thoughtful gesture towards one of our members caught in a bind.
WINNER
Craig Morrow – Press Fleet Officer Peugeot, Citroën, DS Automobiles: "For being consistently excellent."
Special mentions
Kevin Jones – Head of Communications, DS Automobiles: "Especially for mucking in and serving SGMW members and guests with cake at our 15th anniversary 'Time Warp' celebration."
Mark Brewer – Audi Press Fleet Executive: "For his tolerance when faced with ever changing dates for press car loans."
Best PR Office – awarded to the operation consistently delivering the best all-round or forward-thinking service to SGMW throughout the year.
WINNER
Kia: "For service, top quality launches and routes, and all-round good humour and professionalism, as blueprinted by Steve Kitson."
Special mention
Volvo: "Great organisation, good events, and knowing what journalists want and need, and all lovely people too."
Best in PR Innovation – awarded for an unusual or particularly excellent launch, launch route, or any imaginative addition to an event of the PR year in general.
WINNER
Mazda: "For consistently good driving routes on launch events."
Special mentions
Skoda for the Social Bike Rides: "Great fun, on brand, and a lovely way to casually talk shop in the pub afterwards. Looking forward to more of them next year."
Hyundai for the i30 N launch: "A slick operation, well-planned."
'Dark Horse' of the Year – a car that surprised SGMW members, either by its arrival or just how good it was.
JOINT WINNERS
Hyundai i30N: "A true dark horse. Hyundai has never tackled the hot hatch sector properly, and has virtually nailed it first time – and it comes with the marque's enviable warranty."
Kia Stinger: "Who would have expected a rear-wheel drive sporting fastback from this marque 10 years ago? And it looks pretty damn good too."
Special mentions
Alfa Romeo Stelvio Quadrifoglio: "After years of being disappointed by Alfas, this one is a cracker."
Hyundai Ioniq: "A ground breaker, because it is available as an electric, hybrid, or plug-in hybrid."
Vauxhall Insignia Tourer: "A surprisingly good car."
One to Watch 2018 – the car that SGMW members are most looking forward to driving in the coming year.
WINNER
Alpine A110: "By far the most eagerly awaited car in the eyes of SGMW members."
Runner-up
Ford Fiesta ST: "The old version was a cracker, so we anticipate something really special this time… no pressure, Ford."
SGMW Car of the Year
WINNER
Alfa Romeo Giulia Quadrifoglio: "For looks, performance and sheer panache, the Alfa was the SGMW's runaway winner for 2017. This car is special."
Joint runners-up
Peugeot 3008: "Awarded as much for Peugeot's brave decision to completely re-invent the 3008 model, the French marque has created a classy SUV-styled holdall.
Skoda Kodiaq: "Quite simply, a bargain. Well-made and thought out, why would anyone spend more for a car in its class?"
Special mentions
McLaren 720S – "Such a fantastically capable car, that is as easy to drive in city traffic as it is to drive very fast in safety."
Renault Zoe Z.E. 40: "Far more practical than the original, it's an important step on the road to acceptability for electric cars."