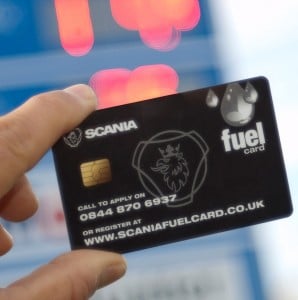 PUMPED: Scania hit big milestone
Scania are celebrating their fuel card service reaching a potential million-litre-a-month milestone.
The Scania Fuel Card, which was launched 12months ago, intends to help operators of all sizes benefit from bulk fuel prices.
It is administered for Scania by The Fuelcard People, who are part of DCC, one of the largest fuel distributors in the UK.
Harjinder Atwal, Director of Services Development and Service Sales for Scania Great Britain, said: "With operators reporting savings in excess of 4% over pump prices, and with fuel typically accounting for 35% of operating costs, demand for the Scania Fuel Card, was always going to be high.
"For our part, we are delighted to be helping the industry keep a lid on operating costs."