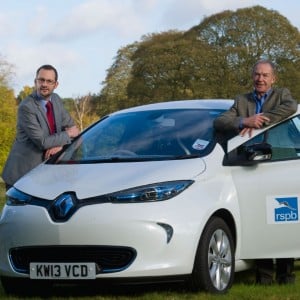 INVESTMENT: RSPB bag Zoe
The Royal Society for the Protection of Birds (RSPB) are adopting a new Renault Zoe plug-in in an effort to drive down their carbon footprint.
David Waller, Head of Central Services at RSPB, said the Society's 300-strong fleet is an 'obvious area' where reductions can be made.
The RSPB already run two electric Renault Kangoo vans.
"As a wildlife conservation charity acutely aware of the potential impact of climate change, the RSPB is particularly committed to minimising its own CO2 emissions," he said.
"The operational success of the two electric Kangoo Vans, one being in London, definitely influenced our thinking when considering the Zoe.
"As a charity with limited funds, the price point was another positive factor in our decision.
"Clearly, we have to ensure the vehicle is utilised realistically and within its range capabilities, but they are sufficient to cover many of the business journeys made by staff.
"So far the Zoe has proved very popular with drivers."