Rolls-Royce Motor Cars welcomed The Rt Hon Nick Gibb, Minister for School Standards and MP for Bognor Regis and Littlehampton, to the company's Technology and Logistics Centre, located in Mr Gibb's constituency. During the visit Mr Gibb toured the facility, met the expert team onsite and was briefed on the company's future plans to expand the Centre. He also took the opportunity to learn more about the Rolls-Royce Motor Cars apprenticeship, graduate and intern programmes.
Nick Gibb said, "The original announcement that Rolls-Royce Motor Cars would be locating its Technology and Logistics Centre in Bognor Regis was a great boost for our town and warmly welcomed. I am delighted to see the huge new state of the art facilities fully operational and providing high quality jobs for local people. The support of such a prestigious company is good news for Bognor Regis and for the wider local economy."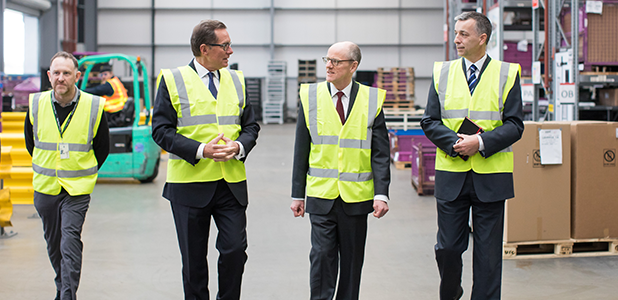 He continued, "It is very welcome that Rolls-Royce operates an apprenticeship scheme, ensuring the company has the skills it needs for the future and providing opportunities and training for a cohort of young people every year. This year Rolls-Royce is taking on record numbers of apprentices."
The new Rolls-Royce Technology and Logistics Centre at Bognor Regis opened, on schedule, in January 2016. The purpose-built 30,000m2 facility is located close to the company's head office and manufacturing plant at Goodwood.