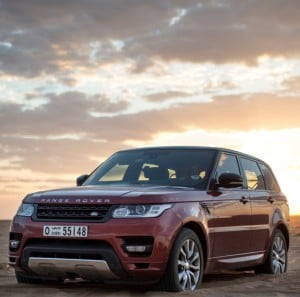 HIT: Range Rover Sport conquers 'Empty Quarter'
The new Range Rover Sport has set the fastest-ever time for a land vehicle crossing one of the world's harshest and most challenging deserts.
Completing the 'Empty Quarter' – or Rub' al Khali – in 10hours and 22minutes, the 510PS, 5.0litre vehicle and its drive team averaged a speed of 51.87mph covering 849km.
The 'Empty Quarter', which exceeds temperatures of 50°C by day, is the largest sand desert in the world and the second-largest desert after the Sahara.
It spans four countries in the Arabic Peninsula: Saudi Arabia, Oman, the United Arab Emirates and Yemen.
Driver Moi Torrallardona, a 47-year-old Spanish off-road racer, said: "The challenge of the desert is like nothing else, it is a brutal, unforgiving and sometimes deadly environment.
"Desert driving requires a unique combination of speed, finesse and technical skill.
"It is crucial that you tackle the dunes with precision.
"Knowing the right time to go full throttle and the right time to slow down, takes experience and clear judgement.
"This unique way of driving requires a vehicle which has the same skillset – it must be both incredibly fast but also agile, responsive and well planted.
"The Range Rover Sport is exactly that.
"It is massively capable and is truly the best tool for conquering the desert."
During the drive, the team encountered a constantly challenging landscape including vast sand flats, soft dunes and epic canyons.
They set off at first light on November 3 and finished the challenge ten hours later as the sun was setting.