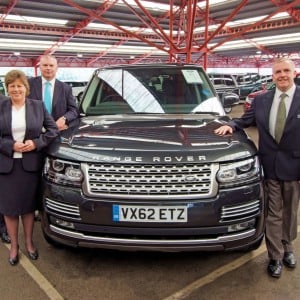 NAILED: Land Rover celebrate big haul
Land Rover recorded an exceptional result at British Car Auctions (BCA) Nottingham earlier this month, as the all-new Range Rover made its used debut.
Nearly 70 franchised and approved Land Rover dealers were represented at the closed event, to bid on 105 vehicles direct from the manufacturer.
Every vehicle on offer sold on the day for a 100% conversion that realised £4.2million, equivalent to 104.2% of CAP Clean.
The special entry of eleven 2012-registered all-new Range Rovers stole the show, averaging 114.5% of CAP Clean.
Best, however, was an all-new Range Rover SD V8 Autobiography in Barolo Black, which fetched £91,000 – the highest price ever received in a Land Rover closed sale.
Notable performances across the range were recorded by Freelander 2 and Range Rover Evoque, which averaged 107.0% and 104.9% of CAP Clean respectively.
Defender 90 averaged 105.2% of CAP Clean, while the one Defender 110 in the sale – a 61/11-registered TDCi XS – sold for £23,000, equivalent to 122.3% of CAP Clean.
Lynn Brown, Used Vehicle Sales Manager at Land Rover, said: "Land Rover and BCA have combined for yet another highly successful event which was enhanced with the first opportunity to buy all-new Range Rover at auction.
"We were delighted to see so many representatives of our dealer network attending this event and bidding so strongly and confidently.
"The all-new Range Rover made a very strong debut, underlining that this model is going to be every bit as desirable to used car buyers as it is in the new car market."
Paul Dunn, National Account Manager at BCA, added: "This high profile event firmly established the all-new Range Rover as a force to be reckoned with in the used car market.
"The sale broke records for Land Rover and underlines the strength of the brand in the 4×4 and off-road vehicle market.
"This result firmly reinforces Land Rover as the clear number one leader within this specialist sector."