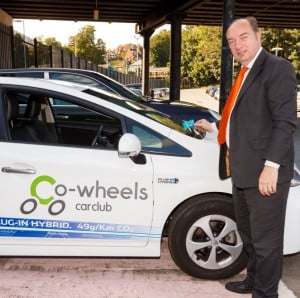 TRIAL: Norman Baker, Transport Secretary
Toyota are providing a Prius plug-in for a new transport initiative which gives Southern rail smartcard holders access to a low emission car club vehicle.
The scheme will see travellers equipped with 'the key' smartcard allowed to commandeer the Prius at Lewes railway station, in Sussex.
Operated by the Co-wheels car club, the Prius makes use of a new electric vehicle charging point installed at the station.
'Key' holders are being offered discounted club membership, enabling them to use their smartcard to open up the Prius Plug-in and drive off.
It is the first time the club has located a hybrid vehicle at a railway station and the project will run as a three-month trial.
The project was formally launched on Friday by Norman Baker, who is both Rail Minister and the MP for Lewes.
It has been set up by Southern, Co-wheels, electric charge point provider Elektromotive, Lewes District Council and EV charge station network developer eV South East Network.
Pierre Fox, Director of Co-wheels, said: "It is very exciting for the club to be involved as a partner in this innovative project.
"Residents, visitors and businesses in Lewes will be able to benefit from an integrated system for accessing travel options.
"Travellers can buy a train ticket that also gives access to a plugged-in hybrid car at the station.
"It is hoped that the model will be extended across the region to create a significant impact."
Riz Wahid, Head of Retail Development at Southern, added: "One of our abiding aims is to encourage people to travel to and from our stations in a more sustainable way.
"Now that the card is here, it makes complete sense for our passengers to be able to use their key card to travel on our services and to drive away one of the greenest cars on the planet."