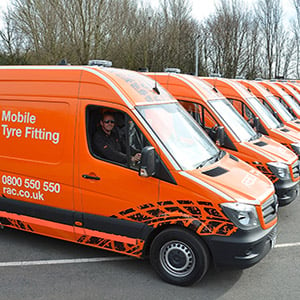 OFFERING: RAC launch mobile service
The RAC are launching their new mobile tyre-fitting service across ten key city and urban centres.
In preparation to deal with more than 120,000 'puncture no spare' breakdowns in 2014, the company have recruited a team of tyre patrols to operate ten dedicated tyre vans.
The move is in response to the fact that 50% of new cars do not come with a spare as standard.
All ten vans are supplied by Mercedes, based on the Sprinter, and are fitted out by the RAC's technical team with the latest puncture and tyre-replacement equipment.
"Time off the road costs money and to small and large businesses a dedicated tyre fitting service offers the best solution."
Phil Ryan, RAC
Phil Ryan, Head of Technical at the RAC, said: "The RAC's new dedicated fleet of mobile tyre-fitting patrols will ensure that we can respond to the growing number of members and motorists who suffer a puncture only to discover their car does not carry a spare.
"Suffering a puncture is a very common problem and we wanted to be able to offer motorists an effective solution which would enable them to get back on the road in the shortest time possible.
"Our mobile tyre-fitting service will cover many of the key city and urban centres and enable us to respond at the roadside to the greatest number of tyre-related breakdowns.
"We have developed the service in response to demand from our fleet and lease businesses, however it will benefit all of the RAC's members offering a fast and reliable replacement tyre service.
"We have run a successful trials two tyre vans covering Birmingham and Manchester which has proved particularly popular with our fleet and business customers who want to be confident that their vehicles and drivers are given the best support to get them back on the road as swiftly and as safely as possible.
"Time off the road costs money and to small and large businesses a dedicated tyre fitting service offers the best solution to keep their vehicles moving and business on track."