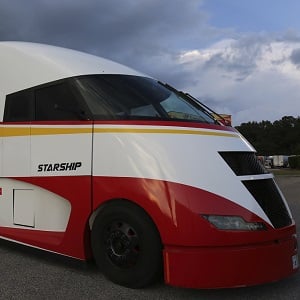 Shell and AirFlow Truck Company have announced the successful completion and the results from the U.S. coast-to-coast run, attaining 178.4 ton-miles per gallon [68.9 tonne-kilometres per litre] in freight tonne efficiency (FTE) – a 2.5 times improvement on the North American average of 72 ton-miles per gallon [27.8 tonne-kilometres per litre]. Freight tonne efficiency is considered a more relevant statistic for judging the energy intensity associated with moving cargo from point A to point B since it combines the weight of cargo being moved with the amount of fuel consumed. The U.S benchmark figures are in the middle ground when compared to the average figures for Asia and Europe.
This journey marks the first time that a prototype Class 8 truck has driven coast-to-coast across the U.S, travelling over 3,700 kilometres (2,300 miles) in real-world trucking operations and in real-world conditions, including unplanned stops and torrential rains.
In addition, the Starship's total average fuel economy stood at 8.94 US miles per gallon [3.8 kilometres per litre], beating the U.S. average of 6.4 US miles per gallon [2.7 kilometres per litre. The best fuel economy attained during the drive was 10.2 US miles per gallon [4.2 kilometres per litre].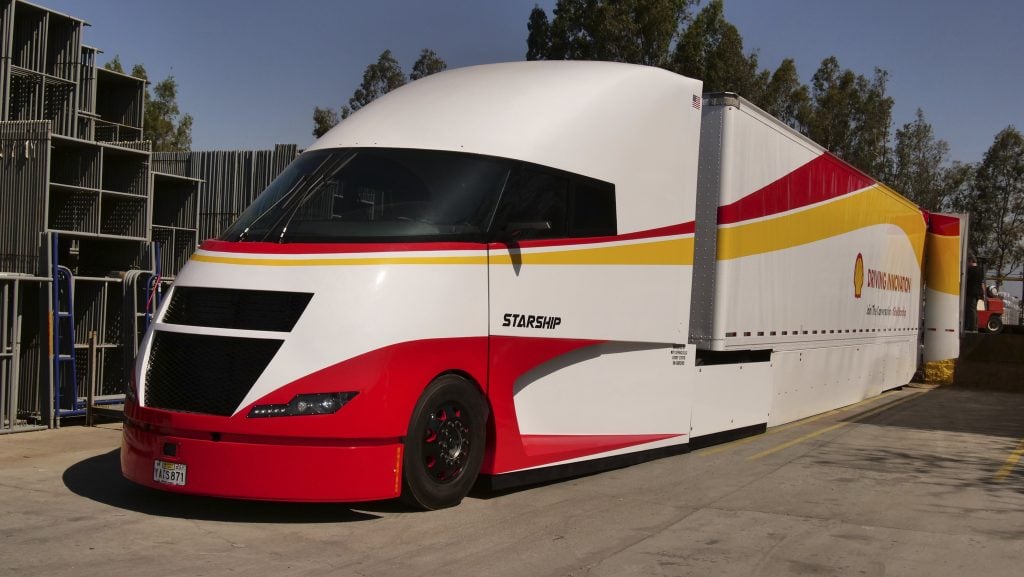 It was also estimated that if all two million trucks in the U.S., reached the overall fuel economy and freight tonne efficiency performance of Starship, there would be 229 million less tonnes of CO2 emissions each year.
These measurements were verified by an independent third party, the North American Council for Freight Efficiency, using an onboard telematics system. The results are timely, as the global trucking sector seeks to "go further with less"; to reduce fuel consumption while maximising load in order to lower costs and to meet fuel economy regulations.
The final total truck and cargo weight was about 33,112 kilogrammes (73,000 pounds) with a payload weight of 18,098 kilogrammes (39,900 pounds). This was comprised of clean reef material destined for new offshore reef installation in Florida.
"We are proud that the Starship Truck was able to complete the coast-to-coast run in real-world trucking operations and conditions, including torrential rains. Our goal with this initiative is to challenge how the trucking industry defines trucking efficiency and further discussions with AirFlow Truck Company and other manufacturers," said Robert Mainwaring, Technology Manager for Innovation, Shell Lubricants.
"Through this road trip, we tested the Starship truck, using technologies available today, to provide insight into how trucking fleets and owner/operators could reduce fuel use and emissions as they haul heavy loads. This includes optimised aerodynamics, drivetrain and operational efficiencies, and low viscosity lubricants," he added.
"The Shell team didn't take the easy road to trying to achieve the best results they could with their first drive with the truck," commented Mike Roeth, Executive Director, North American Council for Freight Efficiency. "They knew they wanted to make the truck run, but they went further. They carried a much heavier load than many average truckers on the road carry, travelled a longer route in an uncontrolled environment with a variety of technologies not tested in these real-world conditions. For us, it was a rewarding opportunity to see the truck move from an idea on paper, and to have travelled with the team on the road to help verify the run results."
"These and other learnings are far from the final results, it is simply the start of our ongoing learning," added Mainwaring. "We'll move forward to apply learnings from this test run and implement additional technologies on the truck for future testing. While it would be easy to say the Starship Initiative has been very successful, we know there is more we can do to continue to drive industry dialogue in the future."
The strong freight tonne efficiency result is attributed to a combination of Shell lubricants technology, enhanced aerodynamics – including customised carbon fibre cab and full side skirts along the length of the trailer – Cummins X-15 efficiency engine, low rolling resistance tyres and a smart driving strategy. The vehicle was lubricated by a Shell low viscosity, fully synthetic heavy-duty engine oil which provides protection against wear, deposits and oil breakdown as well as Shell transmission oils, differential oils and wheel hub oils. The engine oil technology shares the same viscosity as Shell Rimula Ultra E+ and is being tested by OEMs around the world.