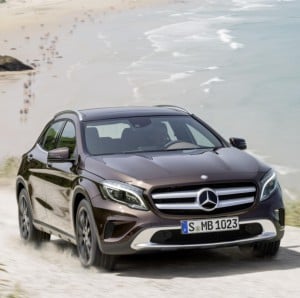 IMPRESSIVE: New Mercedes-Benz GLA-Class
Mercedes-Benz have unveiled the all-new GLA-Class – their first-ever compact SUV.
The car, the fourth of five new Mercedes-Benz compact models, will be available with a choice of two petrol engines and two diesel engines.
Optional four-wheel-drive will also be available on the premium vehicle, which is officially launched at next month's Frankfurt Motor Show.
Mercedes-Benz claim the GLA-Class is 'progressive in design, versatile and impressive off-road', and 'mixes practicality with surefooted 4MATIC capability'.
They also believe the GLA-Class is 'highly maneuverable around town, lively on country roads and dynamic and efficient on the motorway'.
Petrol engines will be available in 1.6litre and 2.0litre versions, which will extend from 156hp in the GLA 200 to 211hp in the GLA 250.
The GLA 250 4MATIC is predicted to hit 0-62mph in 6.5seconds, with a top speed of 145mph, consumption of 39.7mpg and CO2 emissions of 151g/km.
More fleet-friendly are the diesels; the GLA 200 CDI is set to develop 136hp, a maximum torque of 300Nm and a displacement of 2.2litres.
It can achieve 65.6mpg, which equates to 114g/km; the GLA 220 CDI also has a displacement of 2.2litres, 170hp and 350Nm.
All engines will feature the ECO start/stop as standard, and be combined with a six-speed manual transmission or the 76-DCT dual clutch automatic transmission.
Standard safety features include attention assist, collision prevention assist and adaptive brake assist, while a lane tracking package and active parking assist are optional.
The GLA-Class will also feature gadgets such as Siri voice control, Glympse real-time location sharing, as well as Facebook, Twitter, internet radio and Garmin navigation with online POI search.
Mercedes-Benz' COMAND Online multimedia system has also been extended, offering improvements in facilities such as its display and Bluetooth.
The UK specification and prices will be announced in November, with orders taken at the end of the month.
It will be in showrooms in early 2014.