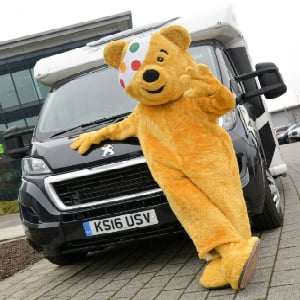 The One Show has announced the running of the 6th Rickshaw Challenge. This year's team will cover a 470-mile journey from Jedburgh in the Scottish Borders to the BBC Elstree Studios over 8 days. A new team of six young riders, all of whom have been supported by BBC Children in Need funded projects, will pedal the Rickshaw.
The One Show presenters will also be on hand throughout the journey to offer advice from their own Rickshaw experiences.  Matt Baker will cycle alongside the team throughout the challenge, while Alex Jones will be following the team every step of the way, live from the studio.
As part of its on-going partnership as the sole automotive partner to the charity throughout 2016, PEUGEOT has supplied seven vehicles – 2 x 508 SW estate, 3 x 5008 Compact MPV, 1 x Boxer Van and a PEUGEOT Boxer Bailey Motor Home – to the One Show for mobile support use during the challenge.
The convoy will follow 'Team Rickshaw' down the country as it travels from Jedburgh to London, providing filming support vehicles and an on-the-road living space for the team throughout the enduring 470 mile journey.
Speaking about the challenge, PEUGEOT UK Managing Director, David Peel said: "The One Show's Rickshaw Challenge has raised £12million for the charity to date and as an official partner of BBC Children in Need, we knew once again it was an event we absolutely had to support.
"Living on the road for eight days is no mean feat and although the team is made up of capable and no doubt very brave young people, it's essential that 'Team Rickshaw' has a reliable and robust convoy of vehicles able to provide backup, regardless of the terrain or weather conditions."
Members of the public can follow the Rickshaw's progress by visiting http://pudsey.viewranger.com