The One Show has announced the running of the Rickshaw Challenge and this year's team will cover a 470-mile journey from 'Lands End to Eastend', riding from Cornwall to BBC Elstree Studios.  The Rickshaw will be pedalled by six young riders, all of whom have been supported by BBC Children in Need funded projects.
The One Show presenters will also be on hand throughout the journey to offer advice from their own rickshaw experiences.  Matt Baker will cycle alongside the team throughout the challenge, while Alex Jones will split her time between the studio and being on the road with the team.
As part of its on-going partnership as the automotive partner to the charity throughout 2015, PEUGEOT has supplied eight vehicles – 1 x 508 SW estate, 2 x 308 SW, 2 x 5008 Compact MPV, 2 x Boxer Vans and a PEUGEOT Boxer Bailey Motor Home – to the One Show for mobile support use during the challenge.
The convoy will follow 'Team Rickshaw' across the country as it travels from 'Lands End to Eastend' – providing filming support vehicles and an on-the-road living space for the team throughout the enduring 470 mile journey.
Speaking about the challenge, PEUGEOT UK Brand Director, Neil Moscrop said: "The One Show's Rickshaw Challenge has raised in excess of £7.9million for the charity to date and as an official partner of Children in Need, we knew once again it was an event we absolutely had to support.
"Living on the road for eight days is no mean feat and although the team is made up of capable and no doubt very brave young people, it's essential that 'Team Rickshaw' has a reliable and robust convoy of vehicles able to provide backup, regardless of the terrain or weather conditions."
"As with every fleet enquiry we deal with, we assessed the demands of the journey, in this case placing great emphasis on safety and suitability – automatics for low speed convoy and comfort for the drivers. These vehicles have been chosen due to their load bearing capacity, performance, comfort and versatility, making them the perfect fleet for such an ambitious challenge."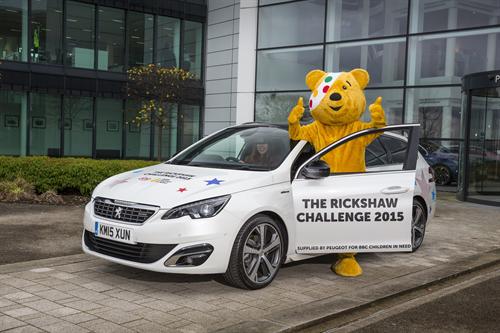 Supporting 'Team Rickshaw' is just one of many activities PEUGEOT and its Dealer Network are involved in throughout 2015. PEUGEOT and Pudsey are uniting once again and are 'Washing their way around the UK for BBC Children in Need'.  The great car wash convoy started on Saturday 30th October at Telford Motors travelling around the UK, washing cars and raising an anticipated £250,000 or more to add to the £1million already raised in the past three years.
Members of the public can follow their progress by visiting getsudsey.peugeot.co.uk