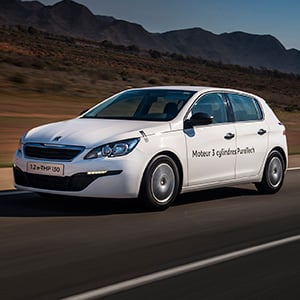 RECORD: 308 takes fuel efficiency to new level
Peugeot's 308 is taking the fuel economy record to a new high with the new 130hp PureTech 1.2litre turbo petrol engine.
Official performance tests have shown the engine to achieve 99.1mpg – 1,234miles on a full tank – when paired with a manual six-speed gearbox.
The test, which took place in Almeria, Spain, saw the 308 driven for more than 32hours to consume the 51.4litre contents of its fuel tank.
It was witnessed by the Union Technique de L'Automobile, Motocycle et Cycle (UTAC).
Peugeot are also making the new 308 available with a 120hp BlueHDI 1.6litre diesel engine, which boasts fuel economy of 91.1mpg and sector-low CO2 emissions of 82g/km.
Overall, the 308 can be paired with a choice of five petrol engines and five diesel engines.
The new PureTech turbo petrol engines are being made available on the 208 Hatchback and 2008 Crossover with the e-THP 110 in the coming weeks.