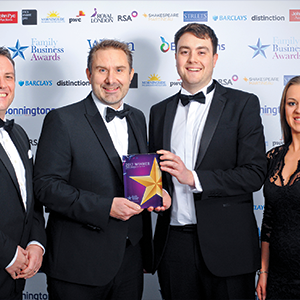 Topping off an already record year for turnover and awards, the firm has been named Family Business of the Year.
Director and founder of OrderWise David Hallam said: "We are absolutely thrilled to have been awarded this title. To say we were surprised is an understatement. It feels like the past few decades have been leading up to our recent success and I couldn't be prouder of my staff or the company right now."
Awarded the accolade at a glittering ceremony at the Derby Velodrome, the firm also picked up a highly commended prize for the People's Choice Award, as voted for by the public.
OrderWise was also a finalist in the Employer of the Year category, making it to the last six in the region.
OrderWise was singled out in the Family Business of the Year category on the back of its development over the past six years, growing its staff from 30 to more than 180. The firm has also completed a £1.3 million expansion, increasing its premises by 14,000 square feet, in line with its ambitious growth plans.
It has also opened a staff café and invested in internal training and development during 2017. This title adds to the Business Person of the Year title awarded to David Hallam at the recent Lincolnshire Media Business Awards.
Established in 2010, The Midlands Family Business Awards are a charitable initiative organised by Nottinghamshire family business The Wilson Organisation. Through the awards, the organisation aims to create an ethical, friendly and supportive community for the region's top family businesses.