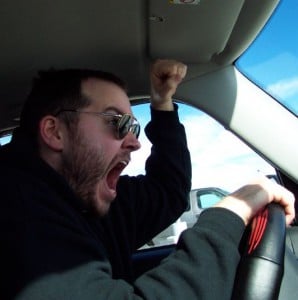 RAGE: How do you apologise for driving errors?
One in ten UK drivers are less inclined to apologise to other drivers when making mistakes on the road, a study has shown.
The annual AXA Motoring Census found 10% of motorists make no apology whatsoever after making a mistake, with drivers aged under 34 the worst offenders.
Just two-thirds (69%) of UK motorists apologise by holding their hand up to the other driver, while a minority shout sorry (11%) or flash their indicators (9%).
Drivers aged over 55 were most likely to apologise for a mistake (93%), while 13% of drivers under the age of 34 admit that they never apologise.
Amanda Edwards, from AXA, said: "It's a shame to think that manners are disappearing from our roads, but the results from the AXA Motoring Census do appear to support this theory.
"Older motorists show respect to their fellow road users in far greater numbers than younger drivers."
Motorists in the East Midlands were found to be the most courteous, with 98% of drivers offering some sort of apology.
However, motorists in the North West were the least likely to show contrition, with 13% making no apologies whatsoever.
The research also highlighted a lack of courtesy in other areas; for example, one in twenty UK drivers (5%) do not bother to indicate at all.
Unsurprisingly, the results also showed that stress levels rise when other drivers do not show courtesy to their fellow road users.
Motorists cited bad habits such as driving too close to the car in front as being major contributors to anxiety on the road.
The research was carried out by OnePoll last November, with 2,000 UK motorists questioned.
AXA is one of the largest general insurers in the UK, offering car, home and travel insurance.
Image courtesy of bikesandwich, with thanks.