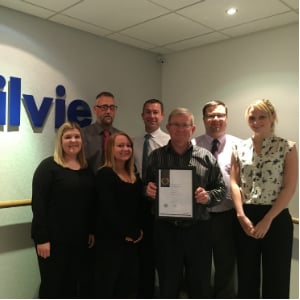 Ogilvie Fleet is hoping to win new business and attract more talented employees after becoming only the second organisation in the vehicle leasing and fleet management sector to gain Investors in People Gold Standard.
Almost 11,500 organisations in the UK have achieved Investors in People accreditation, but only the very best go on to gain Gold status by meeting additional evidence requirements and thus achieving the most successful framework for business improvement through people in the country.
Investors in People data reveals that just 1,577 employers hold the Gold Standard and Ogilvie Fleet is one of just two in its sector thereby joining an exclusive group of UK organisations.
Investors in People Gold represents a true commitment to employees and demonstrates a solid foundation of good practice which remains challenging and aspirational for many organisations.
What's more securing Investors in People Gold Standard accreditation, further adds to Ogilvie Fleet's reputation as being at the forefront of the UK's vehicle leasing and fleet management industry following multiple award wins, notably for customer service.
Additionally, earlier this year, Ogilvie Fleet, which has almost 14,000 leased cars and vans on its books and a further 1,600 on fleet management, achieved a two-star accreditation in the annual 'Best Companies to Work For' national survey that measures and acknowledges excellence in workplace engagement. 
Commenting on achieving the Investors in People stamp of quality which is respected worldwide, Ogilvie Fleet managing director Gordon Stephen said: "It is a fantastic achievement. Like the customer service awards we keep winning and the 'Best Companies to Work For' accolade, it makes me feel exceptionally proud of our company and tells me that we have managers and staff who are working together to provide excellence within our business.
"It is impossible to be a successful company offering a top quality service without motivated and settled staff that feel valued and actually enjoy their work. I have always felt that we have a special company and this is further proof that we are getting things right most of the time."
Employing more than 80 people at its headquarters in Stirling, Ogilvie Fleet also has offices in Belfast and Sheffield. The company first achieved Investors in People accreditation in 2001 and has held Silver accreditation since June 2013.
Mr Stephen said: "Achieving Investors in People Gold is a good yardstick for how well Ogilvie Fleet is doing. As a result, we have a far better chance of being a successful company, keeping our existing customers happy and winning new business.
"Therefore, awards such as Investors in People, which come from staff feedback, are the bedrock of a business. Achieving Gold accreditation is a signal of a good company."
Peter Russian, chief executive of Investors in People Scotland, said: "This is an excellent achievement for Ogilvie Fleet. In having been accredited for 15 years, Ogilvie Fleet have benefitted from ongoing Investors in People advice, support and accreditation. I congratulate the organisation and its people on their ongoing commitment to continuous improvement.
"Investors in People offers a flexible, practical and easy to use business improvement tool designed to help organisations and their people achieve their objectives."
The Investors in People Standard is the benchmark of good people management practice. The international Standard explores practices and outcomes within an organisation under three performance headings: leading, supporting and improving. The Investors in People Standard is made up of nine indicators, each sitting under one of the three performance headings. To achieve Gold accreditation companies must secure all nine indicators at 'developed', 'established' and 'advanced' levels and seven of the nine indicators at 'high performing' level.